Hydrogen freight trains and Canada's heat pump grants: The sustainability success stories of the week
As part of our Mission Possible campaign, edie brings you this weekly round-up of five of the best sustainable business success stories of the week. In this week's edition, Canada's $500m grants for low-carbon home heating, and much more.
---
Published every week, this series charts how businesses and sustainability professionals are working to achieve their 'Mission Possible' across the campaign's five key pillars – energy, resources, infrastructure, mobility and business leadership. We are returning with this series after a two-week break around COP27.
Across the UK and the world, leading businesses, cities, states and regions are turning environmental ambitions into action. Here, we round up five positive sustainability stories from this week.
ENERGY: Low Carbon begins construction for four Dutch solar farms
As the row over plans to limit solar farm development on land in England rolls on, there is some good news. In the Netherlands, renewable energy developer Low Carbon has kick-started construction at four solar farms.
The arrays will have a combined peak output of 53.1MWp. They are based in Ter Apel, Groningen; Overijssel and Wijk Bij Duurstede, Utrecht – the latter region will host two projects.
Low Carbon is financing the projects via a new multi-bank debt facility, set up in August with supporters including Lloyds Bank, Natwest and AIB. It is intending to use the facility to enable the development of at least 1GW of renewable energy capacity. Its overall aim is to create 20GW of renewable energy capacity by 2030.
Roy Bedlow, Low Carbon's founder and chief executive, called the news of construction "an important milestone" as the business works towards this goal. He added: "We are also honoured that our sites will be hosting pioneering research, ensuring more land can be used for both energy and agricultural purposes. Amid a climate and energy crisis, this is of paramount importance to us."
RESOURCES: Co-op to phase out coloured milk bottle tops in boost for recycling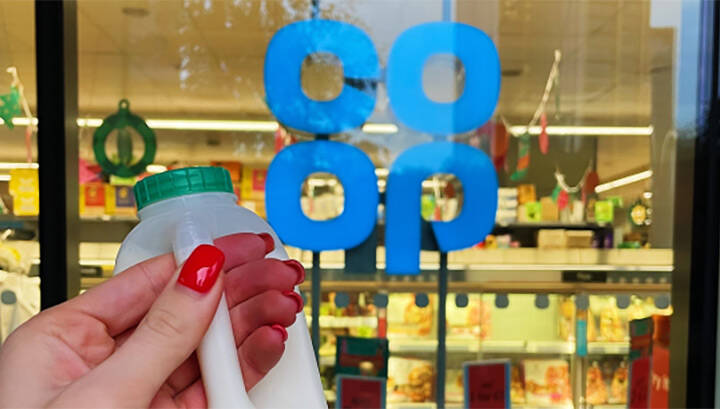 Following on from similar moves by competitors Aldi UK, Sainsbury's and Waitrose, the Co-op has committed to replacing all coloured plastic caps on its own-brand milk bottles with clear alternatives. It has made this commitment after trialling the clear caps on semi-skimmed milk in around 400 stores in August.
The shift will impact semi-skimmed milk initially, with packaging set to change in all UK Co-op stores before the end of the year. Red caps on skimmed milk and blue caps on whole milk will be changed for clear in early 2023.
The Co-op has stated that the move will impact more than 150 tonnes of plastic each year. It is making the change in a bid to reduce colour contamination in the high-density polyethylene (HDPE) stream, as demand for food-grade recycled HDPE grows.
Adam Williams, the milk buyer for the Co-op, said: "There is limited availability of food-grade recycled plastic, and that is a challenge. It is important that packaging is viewed as a valuable resource. We continue to work to explore new ways to make it easier to recycle and re-use these materials, and small changes to everyday issues can collectively add up to make a big difference – this is a 'clear' solution that can reduce the dependency on virgin plastic in the supply chain."
MOBILITY: Nestle Waters forges partnership for a hydrogen freight train in France
This time last year, edie's content director Luke Nicholls was checking out the UK's first hydrogen-ready passenger train at a COP26 side event in Glasgow.
Now, Nestle Waters has announced plans to use the first hydrogen-powered freight train in Europe. The train will be used to transport Vittel mineral water products between the Nestle Water factory in the Vosges and the company's distribution centres.
The beverage company has partnered with Alstom for the train and Engie for the green hydrogen to power the train, which should complete its first commercial journey in 2025. Alstom's train is a dual-mode vehicle that can be powered by either a high-power hydrogen fuel cell or using a line-electric connection.
Nestle Waters sent a statement to media representatives clarifying: This innovative solution will make it possible to carry out all freight journeys with the same electric locomotive, powered by the catenary on electrified main lines and by the hydrogen generator wagon in non-electrified areas."
THE BUILT ENVIRONMENT: Canada to move thousands of homes from oil to heat pumps
Pictured: Hamilton, Ontario
Low-carbon, efficient heating has been a hot topic this year (pardon the pun) amid the global energy price crisis, largely driven by sky-high wholesale gas prices. This week saw Waitrose confirming accelerated plans for heat pump deployment and energy efficiency improvements, stating that "no business is immune to rising energy costs".
Across the pond, the Canadian Government has confirmed plans to double the amount of money it is making available via grants to homes seeking to switch to cold-climate heat pumps. Canada already opened $250m of grant funding in September to homes replacing gas boilers with heat pumps, and has now opened another $250m programme for properties using heating oil. The first grants will be allocated in early 2023.
Each home will be able to claim up to $5,000 under the scheme. Money will be used to purchase and install heat pumps; install electricals to facilitate the heat pump sand safely remove oil tanks. The scheme is only open to homes with an after-tax income at or below the median average, with the intention of helping those least able to self-fund a new heating system as a priority.
BUSINESS LEADERSHIP: Ecotone recertifies as a B Corp, touts highest score in the food sector
It's been a week of celebration for UK-based B Corps. B Lab UK convened representatives from hundreds of UK B Corps at the London Natural History Museum on Thursday evening (24 November) to celebrate the fact that more than 1,000 British firms have now certified.
In other good B Corp news, food firm Ecotone, which owns brands such as Clipper and Whole Earth, has announced its recertification with a B Impact Assessment score of 116.5 points. This makes it the highest-scoring multinational food business; Ecotone is headquartered in France and sells in markets across and beyond Europe. A minimum of 80 points is needed to certify or recertify, and recertification happens every three years.
Ecotone announced the good news alongside its latest annual report, which also confirmed that it has reduced its Scope 2 (power-related) emissions to zero and deliver a 9% year-on-year reduction in Scope 3 (indirect) emissions.
© Faversham House Ltd 2023 edie news articles may be copied or forwarded for individual use only. No other reproduction or distribution is permitted without prior written consent.