Princes' plastic-free multipacks and shared electric vans: The sustainability success stories of the week
As part of our Mission Possible campaign, edie brings you this weekly round-up of five of the best sustainability success stories of the week from across the globe.
---
Published every week, the new series charts how businesses and sustainability professionals are working to achieve their 'Mission Possible' across the campaign's five key pillars – energy, resources, infrastructure, mobility and business leadership.
From a switch away from hard-to-recycle plastic packaging, to a boom in decentralised renewable power generation, each of these projects and initiatives is empowering businesses to play their part in achieving a sustainable future, today.
ENERGY: Local power generation in North of England quadruples, led by renewables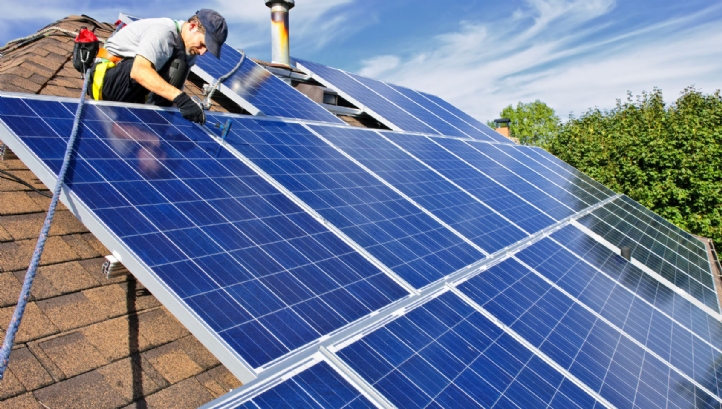 Earlier this week, a joint report from the Renewable Energy Association (REA) and ElectraLink revealed that 45Twh of electricity generated by businesses and homes has been exported to the British grid so far in 2019 – 39.8TWh of which was renewable.
Northern Powergrid has since revealed that regional electricity generation capacity across Yorkshire and the North East has quadrupled over the past decade to reach 4GW – more than is currently installed at the world's largest offshore wind farm, Hornsea One (1.2GW), or the Hinkley Point C nuclear plant (3.3GW).
In order to continue this trend, Northern Powergrid is calling on Ministers, and on regular Ofgem, to provide "extra clarity" on the functions of distribution system operation that it will license network operators to deliver, and for further support in bringing about a flexible energy system.
"With a climate emergency declared by the UK Government and parliament and many of the local authorities we serve, we need more radical change to eliminate net carbon emissions and create a clean and sustainable society for our children and grandchildren," Northern Powergrid's policy and markets director Patrick Erwin said.
"What we need is industry-wide clarity on the future role of our energy networks to help achieve net zero emissions before 2050; that would allow us to act at pace and the confidence to invest."
RESOURCES: Princes ditches plastic shrinkwrap for tuna multipacks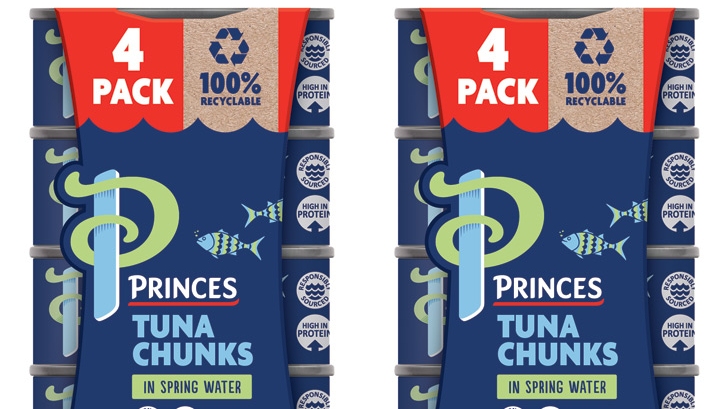 With 82% of UK shoppers now stating that the amount of plastic packaging produced by companies needs to be "drastically reduced", Waitrose & Partners this month made headlines after removing plastic wrap from several of its best-selling multipacks of canned products.
This week has seen Princes follow suit, revealing that it will remove plastic sleeves from its branded four-pack tuna chunks multipacks during 2020. The plastic will be replaced with a recyclable cardboard sleeve, which has already been trialled on eight-pack tuna chunks multipacks sold at Tesco.
Princes' commercial director Mat Lowery said the move forms part of the brand's wider commitment to ensure that 100% of its plastic packaging is recyclable by 2025, and that it will search for plastic-free alternatives where possible. The company notably owns brands such as Napolina and Flora.
"All our existing multipack plastic sleeves are [classed as] recyclable, however limitations around local recycling facilities mean it is not widely recycled," Lowery said "As such, we are excited to introduce the cardboard sleeve to our 4-pack Tuna Chunks next year, which will make it easier for consumers to recycle."
MOBILITY: UK's first fully electric fleet of shared vans launches in Buckinghamshire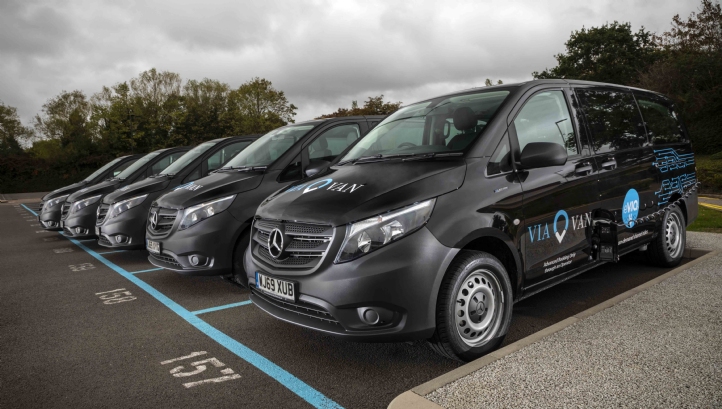 The electric vehicle (EV) revolution is undeniably taking a hold in the road transport sector – but a sustainable transport trend which perhaps gets less attention is shared mobility. With the average car now spending 95% of its lifespan parked, many motorists are ditching car ownership altogether in favour of services such as Liftshare, Zipcar and Uber. 
The early signs of this trend are also beginning to emerge in the van sub-sector, with ViaVan having this week launched what it claims is the UK's first fully electric fleet of on-demand vans, in Milton Keynes, Buckinghamshire. The fleet consists of five Mercedes Benz Vito eTourers, which are available to hire by businesses and individuals.
ViaVan hopes to expand the fleet to 30 vehicles by the end of 2020, after receiving a £544,000 grant from the UK Department for Transport's Office for Low Emission Vehicles. It is working with Milton Keynes Council to gather insights on how the vans are used, and to identify ways to make the town ready for a transport future which is electric and based on mobility as a service.
"Together with Milton Keynes Council, we are excited not only to establish a plan to achieve success for green, on-demand mobility offerings in the city, but also to create a model for how the public and private sectors can work together to realise the vision of smart, sustainable public transport for the future," ViaVan's chief executive Chris Snyder said.
THE BUILT ENVIRONMENT: Work completed on UK's first Passivhaus-standard secondary school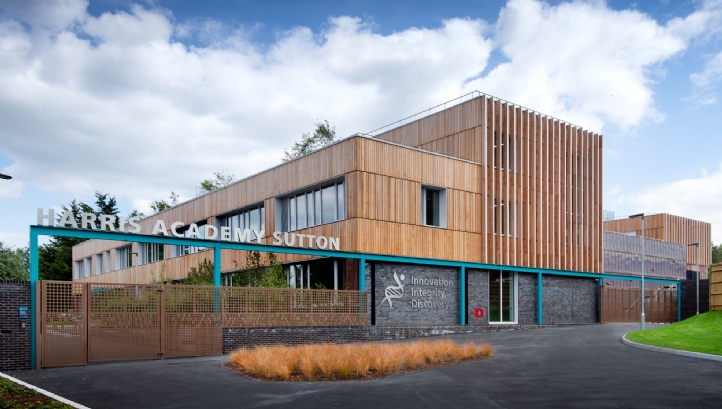 Since this weekly series was launched, several innovative buildings which have received Passivhaus certification have featured in this segment – including a 19th century home in Central London, a business centre in Bicester and the University of Leicester's Centre for Medicine. 
This week, Wilmott Dixon announced that it had completed work on the redevelopment of Harris Academy Sutton in South London – a project which has been certified to Passivhaus standards. The school's upgraded estate consumes around 80% less energy than a standard new build school, while also delivering health and wellbeing benefits to the 1,275 students and 95 staff it accommodates. It features timber frames; heat recovery systems; wall, floor and roof insulation; triple glazing and large windows to allow for passive daylighting. The design for the site was developed by Architype Architects.
 "A key part of this [project] was a Passivhaus-specific induction for the entire supply chain; every person was made aware of the concept, why getting everything right was so important and why stringent quality control was essential," Wilmott Dixon's construction manager Graham Thompson said.
BUSINESS LEADERSHIP: Bank of Ireland signs UN's Principles for Responsible Banking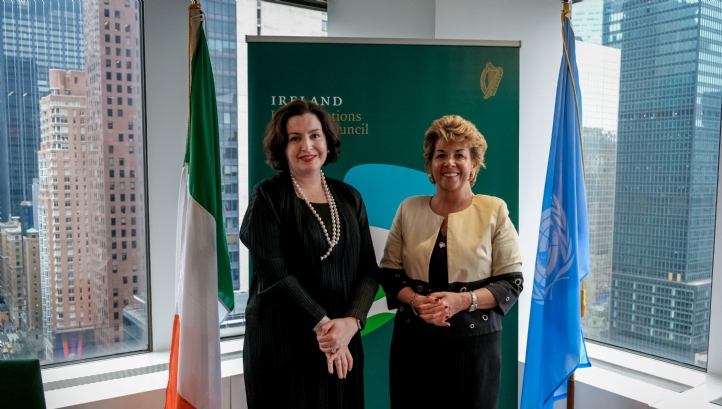 Banking and finance have been at the forefront of several key sustainability debates in recent months. The UN's Climate Summit in New York this autumn saw 130 banks, representing one-third of the worldwide banking sector, commit to aligning their actions with the aims of the Paris Agreement. Since then, Bank of England's Mark Carney has warned corporations that they will lose investment without thorough climate disclosures, and Extinction Rebellion's autumn uprising saw activists across the world target banks to call for a greener finance system.
Building on this trajectory, the Bank of Ireland has signed the UN's Principles for Responsible Banking – a move which commits the firm to align its operations and investments with the aims of the Paris Agreement. The Principles also require signatories to regularly consult with stakeholders to shape programmes designed to deliver positive results for both people and planet, and to be "transparent and responsible" regarding both the positive and negative impacts of their actions.
"Conducting our business in a responsible and sustainable way is fundamental to enabling our customers, colleagues and communities to thrive," Bank of Ireland Group's chief executive Francesca McDonagh said.
"Signing the UNEP FI principles is a key step in Bank of Ireland's Responsible and Sustainable Business journey, signifying our commitment to being part of the global drive for more responsible banking operations."
Sarah George
© Faversham House Ltd 2023 edie news articles may be copied or forwarded for individual use only. No other reproduction or distribution is permitted without prior written consent.