Solar planes and IBM's seawater batteries: The best green innovations of February 2020
Every month, numerous eye-catching and potentially transformational innovations are being developed to help businesses and nations turn their green ambitions into actions. Here, we round up six of the best from February 2020.
---
If a week is a long time in politics, it's an even longer time in sustainability news – not to mention a month. As February comes to a close, we bid a fond farewell to a month full of thought leadership speeches, big green policy announcements and Valentine's climate strikes.
It's been a month which will go down in history as the first time since the UK's net-zero target was set that a major infrastructure project (the Heathrow expansion) was ruled unlawful over climate concerns.
But while all eyes have been on this court case, innovators have been moving at a pace as they continue to develop or scale up new products, concepts and systems which could help corporates and governments to lead the development of a resource-efficient, low-carbon, socially equal world.
In this round-up, edie outlines six of the most promising green innovation stories from February 2020.
Flexible solar film
Given that most solar PV panels are so large that they need to either be installed on roofs or used to create dedicated farms, the race to develop smaller-scale technology has been ongoing for several years, with this round-up having covered the world's first solar window in 2017.
Smaller still are solar screens for devices such as mobile phones, which first became a popular R&D field around four years ago but have not yet taken off at scale. This could be set to change, however, as engineers from the University of Queensland this month piloted 'quantum dots' solar film with a 16.6% efficiency rate – surpassing the previous 13.4% efficiency rate record.
Quantum dots are nanoparticles which generate electricity when exposed to solar energy. They can be printed on flexible, transparent sheets which could, with more research, be used to cover the screens of electronic devices and feed electricity to their systems.
The research team will now work to produce a film with a 20% efficiency rate before bringing the innovation to the mass market. This level of efficiency could make the technology competitive not just for handheld devices, but for large-scale arrays and buildings too.       
Solar and storage 'arcs'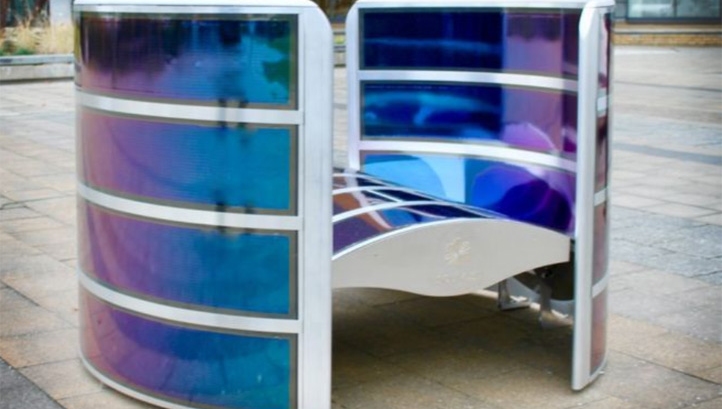 Another lightweight solar innovation comes from UK start-up Solivus, which has developed a device that co-locates thin, flexible solar sheets and battery energy storage.
Called a solar 'arc', the tube-shaped device consists of carbon-based, multi-layer solar sheets with organic photovoltaic generation capabilities. The sheets are curved around each other to maximise generation. In the centre of the device is a small-scale battery.
According to Solivis, the sheets weigh just one-tenth of traditional panels in frames, have a working lifespan of 20+ years and a 13-18% efficiency rate, depending on conditions. This makes them ideal for fixing to curved, vertical or horizontal surfaces or to structures which couldn't bear the weight of traditional panels.
The pilot 'arc' has been installed at the University of Surrey, where researchers will assess the perception of students, staff and visitors. In the future, the small 'arcs' could prove useful for buildings and also for connecting to electric car or bike chargers, Solivus claims.
Cryogenic energy storage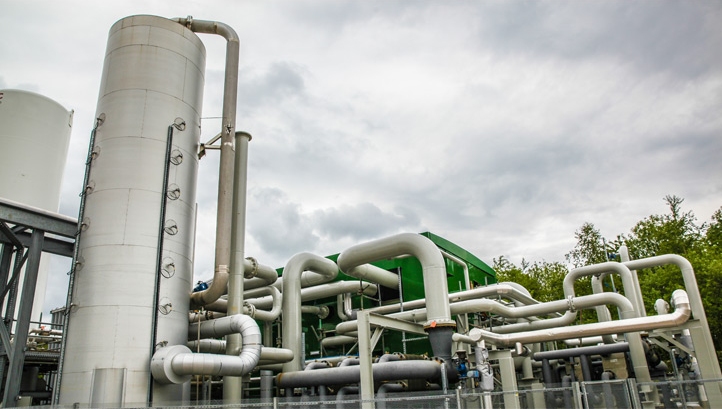 As more renewable energy arrays come online across the globe, and with battery prices plummeting, energy storage is widely regarded as one of the essential technologies for decarbonising industry. But with concerns about the technical capabilities of lithium-ion batteries – and the ethical and environmental impacts of the metals used to make them – innovators are now beginning to explore a range of alternatives, from silicon siloes and liquid air facilities to ammonia-based storage.
One of the more pioneering solutions in this field is cryogenic energy storage – whereby surplus power is used to compress air and then cool it until it condenses into a liquid. When electricity is needed, the air is reheated, causing it to evaporate back into gas and drive a turbine as it expands.
The technology is still in its infancy but UK-based cryogenic firm Highview Power this month secured a $46m (£36m) investment from Japanese industrial manufacturer Sumitomo Heavy Industries, which believes it to be scalable. The funding will enable Highview to bring its solution to market in mainland Europe, Japan and the Americas while expanding its UK operations.
Highview has been operating a 15MWh demo plant in Manchester since 2018 and is currently in the process of building a series of 250MWh commercial plants in the North East. It believes that a 'gigaplant' with a storage capacity of 1.2GWh would be possible in the coming years.
Cobalt-free batteries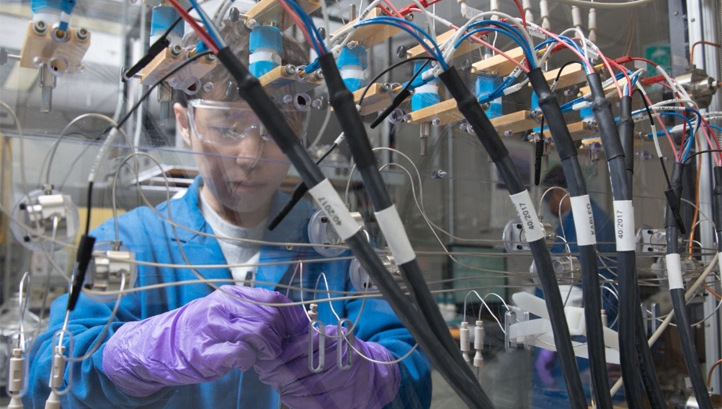 Of course, a more tried-and-tested approach to overcoming the environmental shortcomings of lithium-ion batteries is to re-evaluate the supply chain and re-design the end product – as members of the World Economic Forum's Global Battery alliance, including Volvo, Audi and BMW, have pledged to.
IBM, meanwhile, has developed electric vehicle (EV) battery tech using no heavy metals, mitigating the multitude of environmental and social risks associated with their supply chains. The battery uses three new, proprietary materials derived from seawater including a cobalt- and nickel-free cathode material and a liquid electrolyte.
According to IBM, the new battery is less flammable than its counterparts and could – with further research – outperform existing batteries in terms of charging time, energy efficiency and upfront cost within five years. The firm is now working with Mercedez-Benz, Sidus and Central Glass to fine-tune the design before bringing it to the mass market. Should it prove successful for EVs, it could, in the coming years, be adapted to suit aircraft and smart energy grids.
Microplastic catchers
Recent research found that between 9,000 and 32,000 tonnes of microplastic pollution enter British waterways each year from just four sources. The largest source was found to be tyre abrasion, with between 7,000 and 19,000 tonnes entering surface waters each year.
Moreover, once tyre particulates become airborne, people and animals can breathe them in. The full health impacts of tyre particulates are not yet known but are widely touted as negative. While the switch to EVs will cut air pollutions from tailpipe emissions tyre particulate pollution is expected to rise, as batteries make vehicles heavier. 
To that end, students Siobhan Anderson, Hanson Cheng, Deepak Mallya and Hugo Richardson from the Innovation Design Engineering MSc & MA programme offered jointly by Imperial College London and the Royal College of Art have launched The Tyre Collective. The Tyre Collective have developed a device that can be adapted to fit vehicle tyres of any size, collecting tyre particulates from wear as they move. Once collected, the particulates can be separated and used to create new products.
The Tyre Collective's current prototype is capable of collecting 60% of tyre dust – a term which encompasses both microfibres and larger pieces. It was showcased to the general public for the first time this month. A patent is currently pending for the device. 
Cheng and Mallya notably helped to develop an algae-plane concept attracted the backing of British Airways recently. 
Solar-powered 'satellite' planes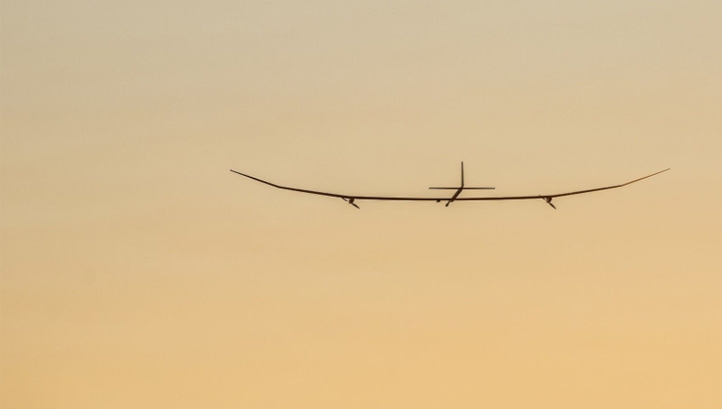 It's often been said that the larger and heavier something is, the harder it is to electrify standpoint – and this has been the case with road vehicles. In the aviation space, this means the development of mass-market-ready hybrid or fully-electric passenger planes is likely still some way off, even though there are more than 100 electric plane projects estimated to be underway across the world.
The good news, however, is that lighter, fully-electric aircraft are emerging at a pace – and that researchers are continually innovating to ensure more sustainable power sources. A particularly attention-grabbing headline in this space is an unmanned aircraft which is entirely solar-powered and could fly for up to a year at a time.
Called PHASA-35 and developed by BAE Systems and Prismatic, the plane has a 35-metre wingspan, covered entirely in lightweight solar panels. These power the aircraft during the day, and it is kept in the sky at night using energy from inbuilt batteries.
The Royal Australian Air Force this month began testing the innovative aircraft – developed less than two years ago – at its Woomera test range in South Australia. The aircraft flew at an altitude of 7,000ft but it is thought that with further adjustments, it could be used to replace satellites that usually track at 66,000ft. The plane in its current form is expected to become commercially available within 12 months.
Sarah George
© Faversham House Ltd 2023 edie news articles may be copied or forwarded for individual use only. No other reproduction or distribution is permitted without prior written consent.