Today at 1pm: Register for the Business Leadership online event
Sustainability experts from L'Oreal, Microsoft, RBS and OVO Energy have all been confirmed for edie's Climate Action Business Leadership sessions, an afternoon of back-to-back online events focused on raising corporate sustainability actions.
---
Hosted during edie's special Net-Zero Week of online content and events and in association with Centrica Business Solutions, the Business Leadership Inspiration Sessions offer up an afternoon of live, interactive webinar presentations and discussions – all dedicated to accelerating climate action in the 2020s.
This is the first of three 'online events' to be hosted by edie within Net-Zero Week (18-22 May) – edie's themed week of online content and events which is inspired by our flagship exhibition, Net-Zero Live. 
—CLICK HERE TO REGISTER FOR THE BUSINESS LEADERSHIP SESSIONS—
With the vast majority of edie's audience now working remotely, and many placed on furlough, due to the Coronavirus outbreak – this collection of free webinars will give you the information and inspiration you need to steer your organisation to sustainability success, from the comfort of your own home.
Registrants will gain access to three live and interactive webinar sessions which are all taking place on Tuesday 19 May 2020. These sessions include a high-level panel debate (1pm–1.45pm); a selection of standout sustainable business case studies (2pm–3pm); and a 45-minute masterclass on becoming an effective sustainability leader (3.15pm–4pm).
Registrants can choose to tune into one, two or all three webinar sessions on the day – and the full collection of sessions will be made available to watch on-demand afterwards. 
Full details of the three webinar sessions are as follows:
1) Mission Possible Q&A – Shaping your sustainability strategy in the 2020s
Timings:
1pm–1.45pm (BST)
Synopsis:
The first of our Business Leadership Inspiration Sessions, sponsored by Centrica Business Solutions, brings together a selection of revered sustainability leaders to discuss what great business looks like in the 2020s, and how you can make net-zero 'Mission Possible' for your business.
Speakers:
Nathalie Bleach, Operations Director UK & Ireland, L'Oreal
Ben Kellard, Director of Business Strategy, Cambridge Institute for Sustainability Leadership (CISL)
Andrea Barrett, Director of Responsible Business, Centrica
Paul Clark, GM – Cloud Engineering & Supply Chain, Microsoft
Discussion points:
Launching edie's Mission Possible 2020 report
The known unknowns: Setting bold new targets for your business
From SBTs to SDGs: Using global standards and frameworks to your advantage
Becoming a powerful leader in the 2020s, as an individual and an organisation
2) In Action: Quick-fire case studies of sustainable business leadership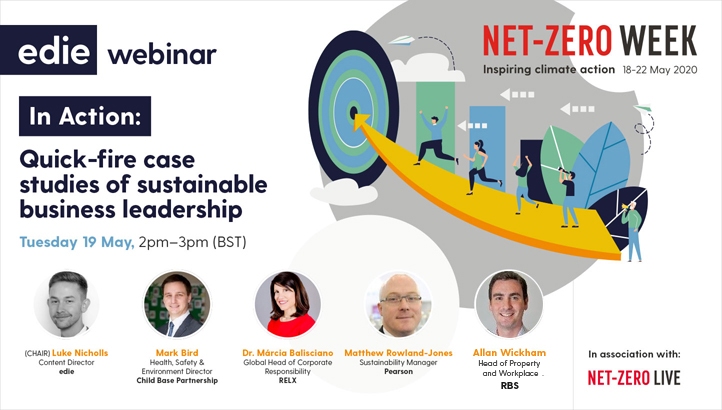 Timings:
2pm–3pm (BST)
Synopsis:
Our opening session explored the why and now we move into the how. This second Session will bring together business leaders from a variety of industries who are each in their own way championing 'total sustainability' through their people, products and processes. 
Speakers:
Mark Bird, Health, Safety & Environmental Director, Childbase Partnership
Dr Márcia Balisciano, Global Head of Corporate Responsibility, RELX
Matthew Rowland-Jones, Sustainability Manager, Pearson
Allan Wickham, Head of Property & Workplace, RBS
Audience Q&A to include:
Henry Majed, Partnerships Director, Innovation Gateway 
Discussion points:
Decoupling business growth from environmental impact 
Building an army of changemakers in your organisation
What great cross-sector collaboration and innovation looks like
3) 45-Minute Masterclass: How to become a highly effective sustainability leader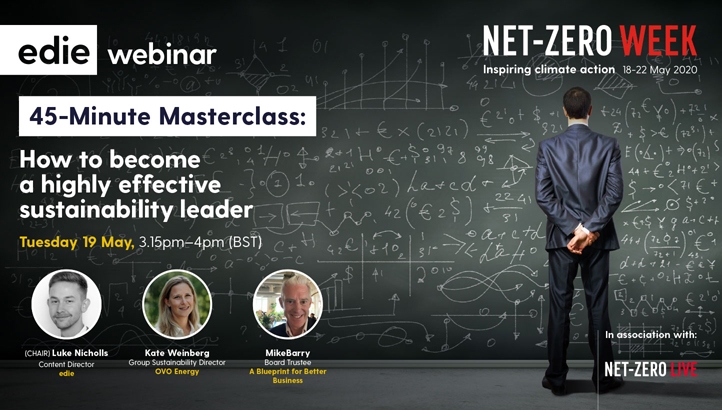 Timings:
3.15pm-4pm (BST)
Synopsis:
Our third and final Inspiration Session is all about you. This masterclass-style webinar will break down exactly what it means to be a 'sustainability leader', and equip you with the tools and techniques to lead a business transformation of your own.    
Speakers:
Kate Weinberg, Group Sustainability Director, OVO Energy
Mike Barry, Board Trustee, A Blueprint for Better Business
Discussion points:
Becoming a powerful, influential leader in the 2020s
The ever-changing skills of the sustainability professional  
Aligning purpose, culture, governance and strategy with long term success and resilience
You can register for all three sessions here.
---
edie's Net-Zero Week 2020
The Climate Action Inspiration Sessions are being held during edie's Net-Zero Week 2020 – a themed week of online content and events dedicated to supporting sustainability, energy and resource efficiency professionals on their journey to net-zero, and beyond. 
The week also aims to spark new business ideas and actions through edie's award-winning campaign, Mission Possible. Specifically, edie readers are encouraged submit new net-zero themed commitments on behalf of their organisations on the Mission Possible Pledge Wall.
The week is inspired by Net-Zero Live – edie's flagship exhibition which is set to take place on 10-11 November at the NEC Birmingham.
View all of edie's Net-Zero Week 2020 content here.
---
 edie staff
© Faversham House Ltd 2023 edie news articles may be copied or forwarded for individual use only. No other reproduction or distribution is permitted without prior written consent.