Where are they now? Celebrating the successes of our 30 Under 30 Class of 2019
With applications for edie's new 30 Under 30 class closing soon (11 August), we catch up with ten of the rising sustainability stars who took part in our first class.
---
More than just a list, edie's annual 30 Under 30 initiative shines a spotlight on talented sustainability and net-zero professionals – aged under 30 – who are delivering on efforts to build a better future and showing fantastic promise. 
30 Under 30 brings individuals who are changing the course of climate action together for networking, mentoring, workshopping and more.
After a two-year hiatus, the programme is returning for 2023 and applications are open until Friday 11 August. You can find full details on how to apply here.
The edie team has taken some time in between reading your applications to catch up with our original 30 Under 30 cohort – the Class of 2019.
In this third and final installment of 'where are they now', we outline the career successes and the future plans of our class members from 2019.
You can read the first installment of the 30 Under 30 'where are they now'? here. 
You can read the second installment of the 30 Under 30 'where are they now'? here. 
Benedict Orchard
Benedict moved on from his role as environmental sustainability manager at brewer Adnams mid-way through our Class of 2019. In this role, he was part of the team that won edie's Sustainability Leaders Award for Water Management.
A new challenge in fashion retail called Benedict in late 2019 and he took up the post as Superdry's energy and environment manager.
Like several peers, he was offered a new role within the last 12 months. Benedict is now the carbon action officer for the National Trust as the charity works towards its net-zero operations target in 2030. He describes this as a "dream role", as he gets to work on net-zero transition planning while also promoting nature access.
Benedict's 30 U 30 highlight: Forming meaningful connections. He says: "Working in this environment is so fast-paced that checking if others working in such similar fields have any advice, ideas or updates is vital. I've made 29 great connections who keep inspiring me to do more, reassure me we can do this, and who I still touch base with every now and then."
Olivia Murphy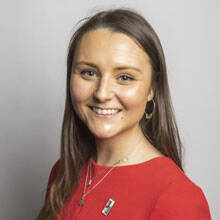 Olivia joined the 30 Under 30 class while in position at her first full-time, in-house sustainability role – sustainability manager at hospitality giant Whitbread.
She worked at Whitbread for the best part of four years, overseeing environmental topics at Premier Inn hotels and restaurant brands, from supply chains to employee engagement.
She moved to NHS Shared Business Services in late 2021 as a supply chain sustainability manager and is now the organisation's head of sustainability and social impact. The organisation supports the NHS with procurement, finance, accounting and employment services.
Olivia's 30 Under 30 highlight: "30 Under 30 provided a fantastic opportunity to connect, network and learn from other likeminded individuals from all sectors, locations and walks of life. .. The 2019 cohort were able to support one another with shared problems and collaborate to create solutions."
Olivia adds: "I also found early in my career it created an environment for us to learn how to network, how to build relationships and turn these into useful connections."
Stuart Gascoigne
Stuart worked as global energy and waste manager at shoe retailer Clarks between 2017 and early 2020.
During UK's 2020 lockdowns, he moved to Imperial Brands PLC where he worked as the Group-wide environmental sustainability manager. He helped to improve the company's environmental disclosures, better embedding these into financial reporting. He also oversaw the company's ESG materiality assessments, including lifecycle carbon.
Stuart has now been at software company JAGGAER for around 18 months, as its Global ESG manager. This role covers supply chain risk management, DE&I, climate and more. Stuart tells edie he enjoys this new challenge.
Stuart's 30 U 30 highlight: Co-learning. He says: "It has been a real pleasure connecting and getting to know like-minded and passionate sustainability pros across various sectors. We've learnt a lot from each other and continue to do so."
Tom Byrne
Tom joined the class as Landsec sustainability manager. After almost six years at Landsec, he traded the built environment for digital retail in the second half of 2019, taking up a role at ASOS.
Tom worked his way up to become ASOS's head of corporate responsibility before taking on a new challenge at British Airways earlier this year. He's now the airline's head of net-zero and environment.
Tom's 30 U 30 highlight: Finding a supportive community. He says: "The main benefit of being part of 30 Under 30 is undoubtedly the network of great people you meet and learning from them and their work. We are all working on similar topics and face similar challenges and being part of a varied group of people to get advice and tips from is brilliant. It's also good to keep encouraging each other and following each other's careers as we grow as sustainability professionals."
Ankita Patel
Ankita is currently the Group Sustainability Manager at luxury retailer Harrods, having been promoted from CSR Manager last year. It was whilst in the manager role at Harrods that Ankita joined our 30 Under 30.
She previously worked in CSR at Asos and has an impressive CV also including stints at Lloyds, Hammerson and CIPD.
In her current role, Ankita works on heading up the ESG strategy and Sustainability team at Harrods and works across a range of workstreams.
Ankita's 30 U 30 highlight: 'It was a privilege to be a part of the Edie 30 under 30 programme and great to make connections with the others on the programme working on similar workstreams across a range of industries. I particularly enjoyed the mentoring opportunity I was given at the end of the programme and learnt a great deal from my mentor Daniella Vega who was Group Director of Sustainability at Selfridges at the time.'
Steve Burgess
Steve was a sustainability manager at the BBC when we launched his Class.
By 2020, he had moved to Selfridges – and it was in this position that he won edie's 'Rising Star' Award.  Steve was promoted to the retailer's senior environment manager earlier this year.
Rachel Hammond
Rachel joined the Selfridges team in 2014 and was the retailer's sustainability manager when her Class launched.
After taking on some freelance consulting work during the pandemic, Rachel entered the charity sector in May 2022, as Cancer Research UK's sustainability programme manager. She recently left Cancer Research UK to take on a new challenge in a senior post at Given, a consultancy for purpose-driven brands.
Eleanor King
Eleanor was a graduate sustainability consultant at AECOM in 2019 and has remained at the business, working her way up to become its senior sustainability consultant and, now, its principal sustainability consultant.
She has been with the business for almost six years and has worked with clients in sectors including construction, transport and pharmaceuticals.
Eleanor is one of two Class of 2019 members currently working at AECOM, alongside Chris Landsburgh.
Phoebe Whittome
Phoebe is another 30 Under 30 member to have applied international relations expertise within the corporate sustainability world.
She joined Virgin Media in 2017 as a corporate affairs graduate and, by the time our Class launched, she had been promoted to sustainability manager. Phoebe remained at the business during the merger with O2 but decided it was time for a fresh start in 2022.
She is now a senior manager for sustainability and climate change at Deloitte, based out of the firm's London offices.
Jess Ainley
Jess was Little Freddie Organic Baby Food's environmental and sustainability manager when the Class was announced.
Shortly after the announcement, she moved into the sustainability team at Fever-Tree, trading baby food for beverages. Then, last year, she took up the mantle as Lazard Asset Management's VP for sustainable investment and ESG.
Within the past few days, Jess has announced a new professional adventure as a senior sustainability manager at Danone.
© Faversham House Ltd 2023 edie news articles may be copied or forwarded for individual use only. No other reproduction or distribution is permitted without prior written consent.