Why we need a human-centred approach for a successful energy transition
A transition often implies a need for various technological, regulatory and business developments - new business models, engineering advances and cheaper, greener solutions. However, it is often forgotten that it is people who are the real drivers behind any change.
---
The story of energy decarbonisation is not only about the commercial or political changes that are needed but also about people's commitment to change their behaviour, to change their values, and to change their way of life.
I remember several years ago having a conversation about how to introduce more sustainable transport options. For me the question was not about cost, but about consumer behaviour and societal readiness levels. At the time many people looked at me like I was from another world, like I was from Mars.
The introduction of the Segway, a self-balancing personal scooter that was tipped to change the way people moved in urban areas, became a case in point. It was a brilliant technology but society was not ready. Were you supposed to ride it on the pavement, in the bike lane, or on the road? Not even the police knew. What about parking and charging while you were out and about? The infrastructure to support it did not exist. And which consumer segment was it targeted at, and how were they supposed to feel? Many of these questions remain unanswered to this day.   
Learning from experience, mindsets are changing. "High technology" industries increasingly put consumers at the centre of innovation as a way to evolve beyond what they are already offering. We need to do this in energy too.
Here at InnoEnergy, we are in a really unique position because we are so well connected to innovators that think in this human-centric way. There has been a shift in the way companies approach finding solutions for the energy transition that has helped bring industry around to the idea of societal appropriation. It is one of the main themes for our The Business Booster event later in the year. It is not about telling people what to do, but about giving people the option of how to engage in the energy transition in whatever ways they prefer.
It is also important to remember that not all consumers will want to engage, or they may find it difficult to engage because energy is intangible, and the way we talk about it, particularly in industry, is often based on a technical dialogue. Instead, we need to help citizens visualise energy. We do not realise the huge impact that energy has on our lives on a daily basis – so the more successful innovations are often those that can help define it, or even better, can help you feel connected to it. When you feel, you take action.
One thing that I have observed over the many years of working in energy is that the energy transition is a reflection of the values of society at different moments of time. There are also often generational differences; different segments have different motivations and values. As an example, many millennials are already engaging with the sharing economy – AirBnB, Uber, Zify – they are already primed for collaboration, and the energy transition should tap into that. And they can also act as drivers of change to the people around them. One of my biggest influencers is my daughter saying things like: "Hey mummy, switch off the lights".
So, part of humanising the energy transition is about really getting to understand people. For me, it was an eye-opener about the opportunities that can be discovered from understanding more about a person – whether they like travelling, whether they own their own business. Coupled with learning their daily routine, and their touch-points with energy, you build a picture of what innovations will work and what is important to them. Is it comfort, time-saving, money-saving or sustainability? This type of thinking is still really new – whereas before we would approach innovation through technology, we are now thinking about it from the human side.
The energy transition is also increasingly considered through a skills gap lens; the profile of people that we need today is very different from that of a decade ago. We need more digital experts, more engineers and above all, more diversity – both in terms of gender but also job roles. We need anthropologists, sociologists and the like that can help build customer-centric solutions. Like in any ecosystem, we need to adapt to changing environmental conditions. The incumbent energy system was built on stable footings, creating competitive advantage from repeating the same steps to productivity. Now they have a great challenge in front of them, and one for which they will need to change. Working together with more agile innovators will be key.
Innovators tend to be able to take more risks, move more quickly, and build an unbiased rapport with customers that helps to introduce this customer-centric way of working. But the incumbents have access to the market and customers, the financial muscle and a wealth of experience that means working together is essential, for both parties. What we have also found when we bring these parties together is that there must be an element of collaboration and cooperation. Culture is also really important and together they must build a bridge between their two worlds and understand that neither party will be able to operate in exactly the same way. As we transition, companies need to be open-minded to creativity if they are to evolve to fit market needs.  
Hardt Hyperloop is an excellent example of a project that recognises the value of the human element of the energy transition in several ways. First, Hardt recognised that despite the climate change narrative and good intentions, not everybody is going to quit flying internationally. We need another solution that meets the mobility needs of society that works with peoples' travel choices rather than curbing them, and one that is sustainable – not just for today's generation, but for generations to come.  
With several companies competing to bring hyperloop to the market, Hardt's goal is to develop the first international standard for the technology. Early on it recognised that to achieve that it would need everyone to get involved. It has become a fact of pride – working with industry leaders through to small sole proprietorships to bring about a new way of working that puts collaboration at the heart. Creating its own "open ecosystem" has helped Hardt bring together the right skills and expertise; from rail operators Nederlandse Spoorwegen to Tata Steel and ENGIE Laborelec to us as a funding partner; together we aim to open the first commercial line by 2028.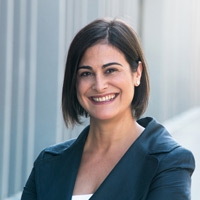 Elena Bou, Innovation Director, InnoEnergy  
© Faversham House Ltd 2023 edie news articles may be copied or forwarded for individual use only. No other reproduction or distribution is permitted without prior written consent.