Circular roundtable: How can businesses accelerate the resource revolution?
Sustainability and corporate responsibility managers from a range of businesses recently gathered in London for an exclusive roundtable hosted by edie and EDF Energy, to discuss how organisations are stepping up efforts to accelerate a circular economy.
---
How can the circular economy help to solve the plastics crisis? What role can sustainability professionals play in developing better materials, smarter product designs and circular business models? And how can more focus be placed on innovation and R&D to accelerate the transition to a circular economy for business?
Those were some of the key questions that edie sought to answer during our exclusive roundtable discussion earlier this month. Sponsored by EDF Energy, the roundtable brought together a dozen sustainability decision-makers and experts to discuss ways to push forward the circular transition.
Assessing the lifecycle
The roundtable discussion began with a warning against the pitfalls of rushing to deliver a 'circular' business model.
Like many companies, hospitality giant Whitbread has ensured that 100% of waste from its Premier Inn Restaurant site is diverted from landfill, with food waste either sent for anaerobic digestion or composting. Within its hotels and restaurants, Whitbread recycles used cooking oil, waste electrical items, beds pillows and duvets. For the firm's director of sustainability James Pitcher, the focus is now on battling against the unintended impacts of circular models. He noted that, as recycled materials often add other impacts in energy use or water, companies such as Whitbread need to create a lifecycle assessment to measure the environmental impacts of products.
"One of the interesting things for us now is that when you begin to look at circular models – particularly involving waste streams – you start to have a situation where you are pushing up the energy consumption of your systems.
"We are the point where we have done the low-hanging fruit for most of these things and done things that make sense both for environmental and cost reason. But, when you start to expand out to your supply chain, unless you have renewable energy or zero-carbon vehicles transporting goods, suddenly you can make the change away from plastics and then double your carbon emissions."
Pitcher cited the recent unveiling of Innocent's sustainable bottle made from 100% non-virgin plastic packaging as a perfect illustration of packaging that is produced in the most environmentally friendly way after a whole lifecycle analysis.
Flexible futures
Whitbread's own carbon footprint has been controlled in recent times through the installation of onsite solar, and more recently, the UK's first hotel-based energy storage unit. Moves like this that support the transition to a more flexible grid were endorsed during the roundtable discussion by EDF Energy's energy solutions sales director Vincent De Rul, who encouraged more companies to make the switch.
"Everything at the moment is on the generation side," he said. "We need to look at the demand side of things and find a way for consumers to reuse energy that can reduce the company's carbon footprint and energy consumption.
"It is a flexibility question… It does not always require a big investment – sometimes you have the capability to 'flex' your assets onsite, so you can optimise your energy consumption without spending a lot. So, it is not a big investment, it is more about an understanding of the potential rather than making a big decision that will impact your finances."
The language of money
The discussion then moved to how corporate efforts to deliver a circular economy could be accelerated further, with some participants highlighting the importance of policy levers. Rupert Maitland-Titterton, senior director of corporate communications and sustainability at Kellogg's, noted how higher packaging taxes recently introduced in Germany have forced the global food manufacturer to reassess its approach to packaging design.
"In Europe, we have been banging our head against a brick wall trying to work out how we deal with packaging," Maitland-Titterton said. "All of a sudden, Germany says to Pringles that we are going to raise the tax cost on your Pringles can from €1m to €3.3m a year in just three months. People suddenly sit up and take notice because that is €2.3m gone from profit just like that. So, it's about the language of money.
"A recent McKinsey report explained that if you want to create change with a company, you have to talk the language of business. That is why reducing electricity is easy to do because you are saving money, but when you are talking about saving your footprint and saving bees, chief executives who are going to lose their job on the share prices don't care." 
The UK is starting to take heed of its continental neighbours with the introduction of its own progressive resource efficiency policy. In the Autumn Budget, proposals were put in place for a new tax on the manufacture of plastic packaging that contains less than 30% recycled plastic, followed up by the Resources & Waste Strategy's flagship pledge that producers will be forced to pay full net-costs of disposal of packaging they place on the market – up from just 10% now.
Media and consumer pressure
Roundtable participants recognised that heightened regulatory action was influenced primarily by the media coverage of the plastics debate, which started with the BBC's Blue Plastic II series. "One of the things we learned from plastics is that the media is a disrupter," the Environmental Agency's head of sustainable business Simon Dawes said. "Blue Planet came along and with Michael Gove as Secretary of State we felt closer than ever to that."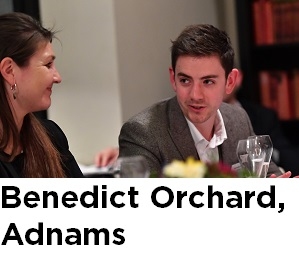 It was agreed that Blue Planet kicked off a consumer trend to buy sustainable goods, reflected in the fact that some retailers posted a rise in sales of reusable coffee cups of 537% in the immediate aftermath of the series. At this point in the discussion, Coca Cola European Partners' (CCEP) sustainability director Europe Therese Noorlander interjected with an observation about the impact of consumer pressure on packaging design. "If the consumer comes to your headquarters and tells you that they no longer want you to use this type of packaging, it has a huge impact," she said.
"That is what happened with Walkers," noted Benedict Orchard, environmental sustainability manager, Adnams, referencing the crisp brand's decision in October 2018 to launch a nationwide crisp packet recycling scheme, following months of consumer protests against its hard-to-recycle packaging. "Everybody started returning the packets and that is why we now have a crisp packet recycling scheme in the UK. That was primarily down to passion from consumers asking why nothing had been done yet." 
Appetite for innovation 
CCEP's vice-president for sustainability Joe Franses warned against an overreliance on policymakers to solve the issue, referencing the barriers which slow down the process of turning proposed legislation into action. Businesses should instead be proactively looking to invest in innovative products and services, he said.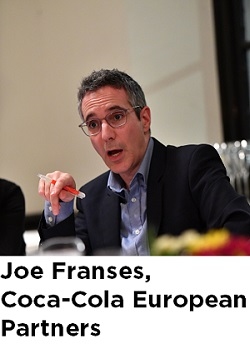 "You have to recognise that is going to take time," Franses said. "Even with aggressive policymaking in Scotland, a deposit-return scheme may not be in time for 2023. "So, for me there has got to be appetite for innovation. We are starting to see that innovation change dramatically, even in oil-tanker businesses like Coca-Cola that take years to turn around. Appetite for innovation that is more circular and more disruptive."
CCEP was one of the founding 24 members of a new 'waste-free' retail platform, which will see businesses provide product refills for shoppers while retaining ownership of their reusable packaging. Franses hailed the Loop platform as an innovative example of major retailers and brands working together to solve the waste crisis.
Inevitably, schemes such as Loop will only be deemed successful if they receive the full backing of consumers. "The key to that is going to be behaviour change," said Whitbread's Pitcher. "My biggest criticism of the Blue Planet series was that it didn't give an answer. The plastic piece came right at the end of the series, upset a lot of people but didn't present any solutions.
"That fuelled a lot of myths about plastic alternatives that are fundamentally not true. We don't teach people how to recycle in this country, we don't teach kids when they go through school. We can come up with the best innovations in the world but if people don't change their behaviours or habits then it won't work. It requires a massive education piece."
---
The circular economy at edie Live 2019
The circular economy is taking centre stage at the UK's largest sustainability and energy exhibition this year, with an entire Theatre dedicated to the topic at edie Live on 21-22 May.
The two-day show – edie's biggest event of the year – has become a highlight of the calendar for sustainability, energy and environment professionals looking for new ideas and solutions that will help them achieve a low-carbon, resource efficient and profitable future for their business.
Register for your free edie Live 2019 pass here.
---
George Ogleby
© Faversham House Ltd 2023 edie news articles may be copied or forwarded for individual use only. No other reproduction or distribution is permitted without prior written consent.