Coca-Cola's plastic-free packs and V2G bus depots: The sustainability success stories of the week
As part of our Mission Possible campaign, edie brings you this weekly round-up of five of the best sustainability success stories of the week from across the globe.
---
Published every week, this series charts how businesses and sustainability professionals are working to achieve their 'Mission Possible' across the campaign's five key pillars – energy, resources, infrastructure, mobility and business leadership.
Despite the economic shockwaves being felt globally as a result of the coronavirus pandemic, projects and initiatives which empower businesses to play their part in achieving a sustainable future, today, are continuing to launch and scale-up. 
ENERGY: UK's largest council-owned battery comes online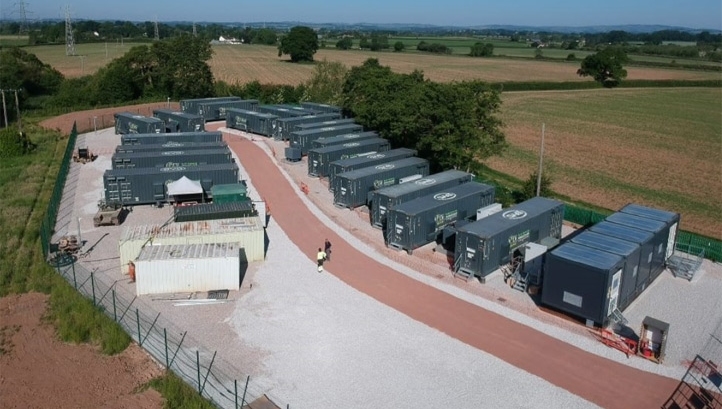 Several UK councils have invested in battery storage arrays in recent times, as they strive to decarbonise the energy used across their operations or in their region more broadly. Proponents include Gateshead Council, Bristol City Council and Warrington Borough Council.
This week, South Somerset District Council (SSDC) commissioned the final 5MW of its 30MW Fideoak Mill battery storage array. The 22-battery facility will provide grid balancing services to National Grid, which will help as more renewables come online and as energy demand patterns change. It was commissioned by Kiwi Power, which has also provided hardware and services.
"Councils across the UK are seeking to make the most out of their sustainability and carbon emissions investments as they seek to meet increasingly stringent targets," Kiwi Power's head of optimisation Thomas Jennings said. "Landmark projects such as Fideoak are vital for demonstrating how investments in battery storage and renewables are value-adding and income-generating."
RESOURCES: Coca-Cola to rolls out paper alternative to plastic can rings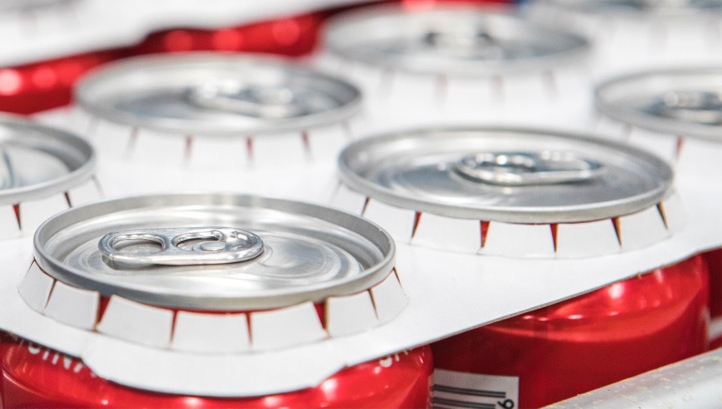 The flexible plastic six-pack rings typically used to hold multipacks of cans are hard-to-recycle due to their weight and texture and, as such, are not collected at kerbside by many local authorities in the UK and mainland Europe. Diageo and Budweiser are, therefore, shifting to cardboard boxes and sleeves, while Corona is trialling cans that screw together and Carlsberg is using a recyclable glue.
The latest move in this space comes from Coca-Cola European Partners (CCEP), which is rolling out paperboard 'collars' on multipacks sold in Spain. It has invested €2.6m in its Barcelona factory to fit the machinery that places the collars onto the cans and will introduce the new packaging format in the Balearic Islands in November, ahead of a broader rollout. To minimise the environmental impact of the new collars, they are designed to be recyclable and are made using PEFC-certified pulp.
CCEP's vice president of sustainability Joe Franses said the company will have removed more than 4,000 tonnes of hard-to-recycle plastic from secondary packaging by the end of 2020.
MOBILITY: 'World's largest' V2G trial begins at London bus garage
According to a recent study, connecting EVs to the grid at scale could cut £270m a year off the cost of running the UK power system by 2030. Many businesses are keen to contribute to this opportunity, with V2G offerings having been launched by the likes of Nissan, OVO Energy and Plymouth City Council over the past 12 months.
This week, a V2G trial described as the largest of its kind began at the Northumberland Park bus station in North London. 28 chargers and 100 buses have been adapted for bi-directional charging as part of the pilot project, spearheaded by SSE Enterprise and the Mayor of London's office. It is hoped that data from the trial will build the business case for V2G for both the utilities and public transport sector.
Other participants in the trial are Go-Ahead London, Transport for London, BYD, Leeds University, UK Power Networks, Alexander Dennis and aggregator Origami.
The University of Leeds' sustainable cities MSc programme leader Dr Steven Hall said: "Electrifying transport will have huge benefits for air quality in cities and for meeting our climate change commitments. Large electric vehicles like [buses] can also support the energy system, but this means creating new ways of working between energy utilities, grid managers, and transport providers. This project is creating new business models to make this happen." 
THE BUILT ENVIRONMENT: 750 low-carbon modular homes to be built in Greenwich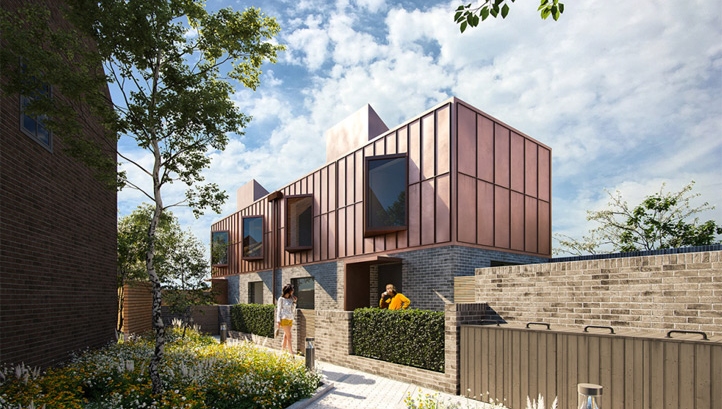 Last month, the Royal Borough of Greenwich Council unveiled four energy-efficient modular social homes. This week, the local authority announced that it has selected a consortium of businesses and other organisations to deliver up to 750 similar properties within the next five years.
It has identified 60 locations across the Borough where the houses could be erected and named A&E Elkins as the builder, Ideal Modular Homes as the manufacturer and ShedKM as the architects. Engie helped the council to deliver the initial properties and will assist with the roll-out also, ensuring that they benefit from individual air-source heat pumps, solar panels and 'smart' energy technologies.
The homes are designed to maximise passive heating, lighting and cooling and have an energy performance certificate (EPC) rating of 'A'. They can be manufactured within four days and installed in eight hours, minimising upstream emissions.
Royal Borough of Greenwich Council's cabinet member for housing, Anthony Okereke, claims the move marks the UK's largest ever modular housing deal.
BUSINESS LEADERSHIP: BHP threatens to leave trade lobby groups which aren't Paris-aligned
Many trade bodies are using the pandemic as an opportunity to push for governments to roll back climate and renewable energy aims, to delay proposed green legislation, or to invest in high-carbon sectors in order to boost the economy, recent analysis from InfluenceMap revealed.
It is refreshing, then, to see BHP – the world's largest mining company – urge key trade bodies to align with the Paris Agreement if they wish to retain its membership. In an update to its website on Friday (14 August), BHP stated that it wants all trade bodies it is associated with to advocate for Paris-aligned long-term climate targets and to stop supporting energy policies that favour fossil fuels over renewables.
It also expects organisations to lobby for a stronger price on carbon and to include "balanced" propositions. For example, if a body tells policymakers of the cost of climate action, it must also measure and disclose the risks associated with inaction.
Recent times have seen Unilever leave the US Chamber of Commerce and Business Europe and BlackRock take voting action against 53 firms over sustainability concerns.
Sarah George
© Faversham House Ltd 2023 edie news articles may be copied or forwarded for individual use only. No other reproduction or distribution is permitted without prior written consent.