Coca-Cola's rooftop solar and Urban Outfitters' rental boxes: The sustainability success stories of the week
Published every week, the new series charts how businesses and sustainability professionals are working to achieve their 'Mission Possible' across the campaign's five key pillars - energy, resources, infrastructure, mobility and business leadership.
---
From the expansion of Coca-Cola Amtil's clean energy portfolio, to the launch of a fashion rental service by high street giant Urban Outfitters, each of these projects and initiatives is empowering businesses to play their part in achieving a sustainable future, today.
ENERGY: Australia's largest Coca-Cola bottle posts strong progress on clean power targets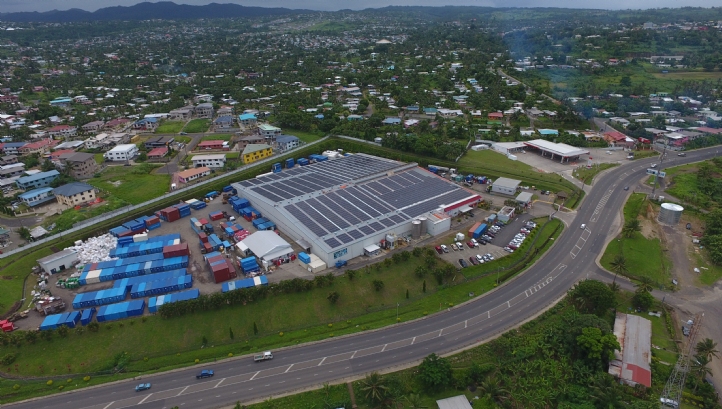 Earlier this year, edie reported on Coca-Cola Amatil's strong progress on its recycled plastic and circular economy ambitions, after the bottling giant confirmed plans to reduce its virgin plastics footprint by 10,000 tonnes annually by doubling the amount of recycled plastic it sources for inclusion in plastic bottle production.
This week, the company posted a further sustainability success story, revealing that is on-track to meet its 2020 ambition of using 60% renewable power across its international operations. It revealed that clean power accounted for 56.4% of its total energy consumption during 2018 and confirmed plans to sign a long-term Power Purchase Agreement (PPA) with the Murra Warra Wind farm near Horsham, Victoria in an update on its sustainability strategy. The firm is also planning to install more rooftop and onsite solar arrays at its facilities during 2019, following successful project completions at factories in Eastern Creek, Richlands and Kewdale in Australia, and Cibitung in Indonesia last year.
"Bottling is energy-intensive, so our shift to low-carbon and renewables is a significant change," Coca-Cola Amatil's managing director Alison Watkins said.
"We're keen to support sustainability but renewables also have to make commercial sense; that's why we're pleased that the bulk of our low-carbon and renewable energy was sourced at a market competitive price versus traditional power."
RESOURCES: Urban Outfitters launches clothing rental scheme in the US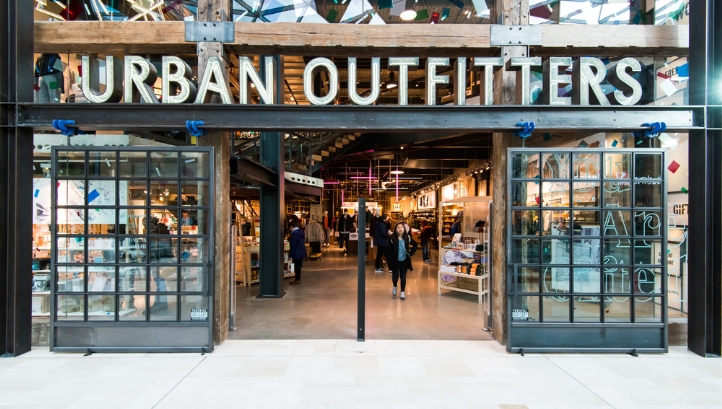 Waste is one of the global fashion industry's biggest problems. The sector is now so large that it churns out 100 billion garments and 20 billion pairs of shoes annually – 85% of which will be sent to landfill, incineration or downcycling within five years of being produced.
In light of this challenge, which is resulting in resource scarcity issues and declining consumer trust, several existing and emerging fashion companies are beginning to turn to repair, resale or rental models. VF Corporation now sells repaired products through The North Face Renewed scheme, for example, while rentals firm such as White Closet and Rent The Runway have enjoyed a boom in subscribers in recent months.
Continuing this trend, high street giant Urban Outfitters this week unveiled plans to launch its first ever rental subscription service the summer. Under the service, called Nuuly, US-based consumers will pay $88 (£69) a month to receive a box of clothing in their size and chosen style. The box contents will be worth approximately $800 (£630) each time. Once the month is up, they will be given the choice between buying the items at a discounted price or returning them for someone else to rent. Urban Outfitters is targeting 50,000 subscribers within the scheme's first year of operation.
"In apparel, the millennial consumer, in particular, is seeking out platforms that provide novelty, variety and breadth, while also supporting sustainability," Urban Outfitters' chief digital officer David Hayne said.
MOBILITY: Addison Lee pilots luxury, fully-electric SUVs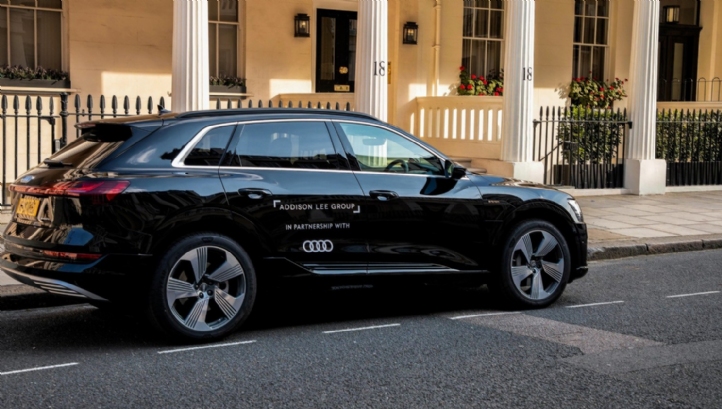 Electrification and the sharing economy are undeniably two trends that are shaping the future of the automotive sector. Emerging electric vehicle (EV) rental platforms such as Zipcar, Volkswagen's We Share and Groupe Renault's Marcel are all growing rapidly, while existing taxi and ride-sharing firms such as Uber are also striving to electrify their fleets.
Building on this trend, private-hire taxi giant Addison Lee this week announced plans to add five Audi e-trons to its London-based chauffer service as part of a six-month trial. During this period, drivers and customers will be asked for their feedback and data surrounding charging times and costs will be logged, in order for Addison Lee to explore the possibility of running a fleet of 100% pure EVs.
The move comes shortly after the introduction of London's Ultra-Low Emission Zone (ULEZ), with Addison Lee having worked with Transport for London ahead of the launch of the e-trons. Addison Lee already purchases carbon credits to offset journey emissions through its Greener Future Programme but is working to shift to EVs in order to combat air pollution on a local level.
"Our partnership with Audi demonstrates the power of combining two large scale, established and premium brands to make a significant and positive impact on cities and air quality," Addison Lee's chief executive Andy Boland said.
THE BUILT ENVIRONMENT: Plans for 'energy-positive' restoration of Notre Dame unveiled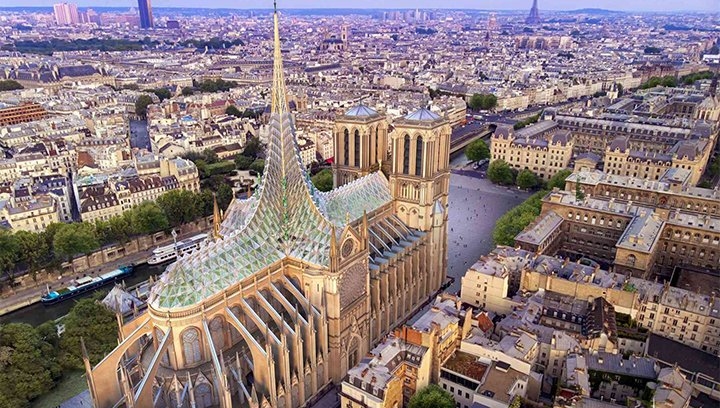 Just over a month ago, the world mourned as one of Europe's most famous historical religious buildings – Paris's Notre Dame Cathedral – went up in flames. With the fund for its restoration having this month surpassed the €1bn mark, largely due to substantial donations from philanthropists and French corporations, architects' firms are now beginning to envision what a rebuild could look like and aligning their designs to climate science.
Among them is Paris-based Vincent Callebaut Architectures, which has released new concept plans for a restoration that would see the Cathedral generate more clean power than it is able to consume. Dubbed Palingenesis – the Greek term for rebirth – the plans would see the missing dome replaced with a strong oak frame, carbon fibre slats and a glass solar roof made of photovoltaic (PV) crystals. Energy generated using this technology would be stored in hydrogen fuel cells within or behind the Cathedral. The designs also feature spire designs that would enable passive heating and cooling.
"Through energetic solidarity with the body of the historic monument, the contemporary, three-dimensional Gothic stained glass graft produces all the electricity, heat and passive ventilation that the cathedral might require, by combining passive systems and advanced renewable energies," Vincent Callebaut Architecture's founder and lead architect Vincent Callebaut said.
BUSINESS LEADERSHIP: VF, Timberland and Wrangler invest in regenerative ranching
Following the expansion of its range of products made using "climate beneficial, net-negative carbon" wool, VF Corporation has, through its charitable arm VF Foundation, launched a new research project covering regenerative ranching practices.
The Foundation, in partnership with Timberland and Wrangler, has funnelled $150,000 (£118,000) worth of grants into seven universities across the US, where researchers are working to analyse the environmental, social and economic impacts of regenerative cattle ranching compared to continuous ranching. Regenerative models usually involve farmers letting their herds intensively graze in one area before moving them onto another, allowing grass to regrow and nature to recover in between cycles.
The move comes as Timberland and Wrangler are working to develop products made using "regenerative" leather, sourced from certified and traceable US farms, by 2020. However, the companies will also share the results of the research with other leather users, in order to help spur wider and more rapid adoption of less carbon-intensive ranching practices.
"The Wrangler brand was born out of the American West way of life, so it is important to us to support farmers and ranchers in the challenges they face such as land productivity, development pressures, and biodiversity loss," Wrangler's global brand president Tom Waldron said.
"Whether it's funding research or building new supply chains, we're proud to improve the lives of people who make their living off the land."
Sarah George
© Faversham House Ltd 2023 edie news articles may be copied or forwarded for individual use only. No other reproduction or distribution is permitted without prior written consent.