COP26 Action Tracker: Green gilts, Covid-19 safety fears and Australia's uncertainty
With less than 50 days to go until COP26, this latest edition of edie's Action Tracker paints a mixed picture – with positive announcements on climate finance and corporate sustainability marred by fears over Covid-19 preparations for the UN talks, and pessimism around its outcomes. 
---
Taking place in Glasgow this November after a one-year delay due to Covid-19, COP26 is widely considered to be the most important iteration of the annual UN meeting since 2015, when the Paris Agreement was ratified.
The new COP26 Action Tracker provides a regular round-up of the policy and business preparations being made here in the UK and across the world. The key elements of the Tracker will be updated every two weeks with all of the need-to-know updates ahead of the November talks.  
The COP26 Action Tracker is brought to you as part edie's Countdown to COP26 Festival – a six-month programme of exclusive content and events supported by headline partner Virgin Media O2. View all of edie's COP26 content here. 
The numbers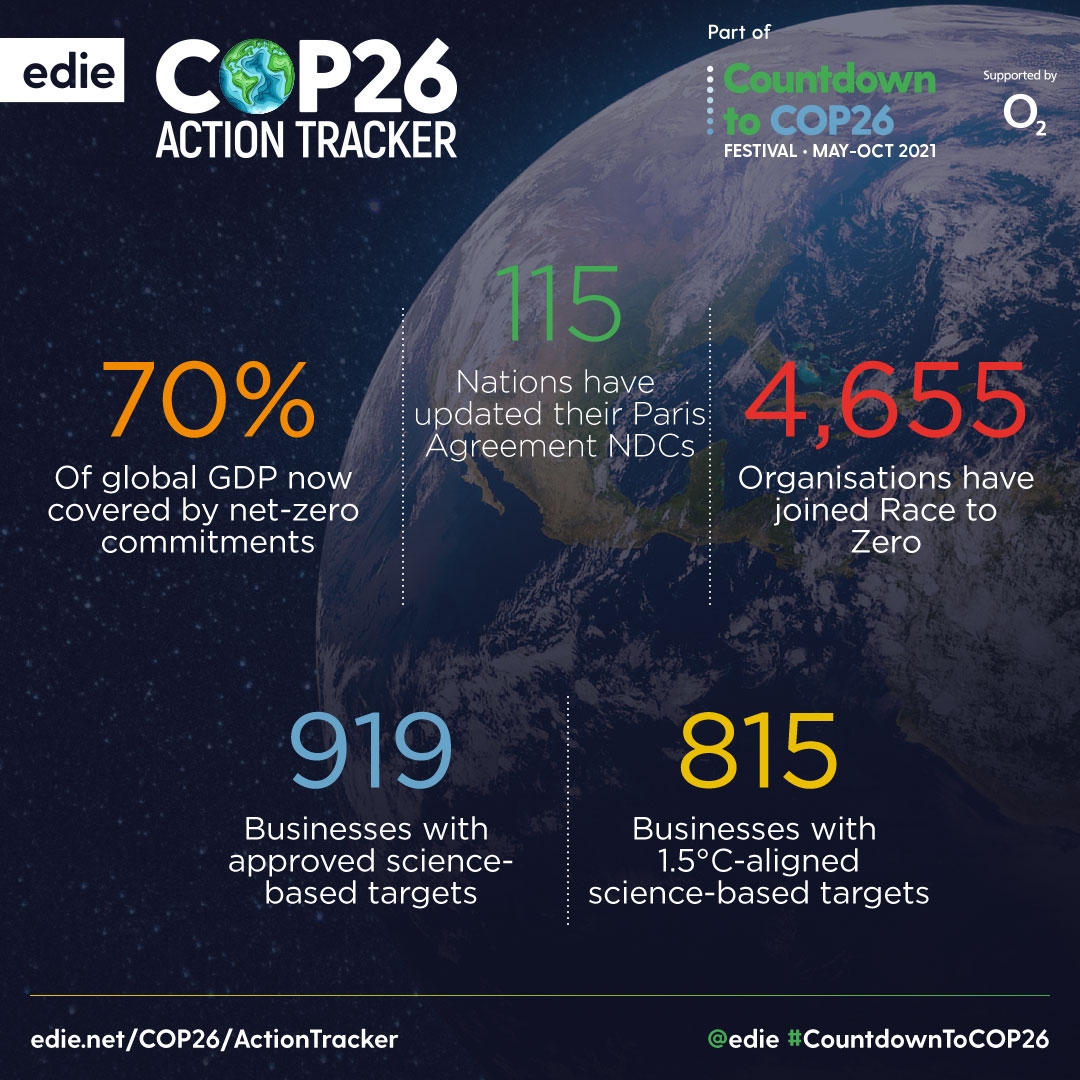 The headlines
UK policy updates
With less than five weeks to go until COP26 officially opens at the SEC in Glasgow, the UK's green economy continues to await the Heat & Buildings Strategy, the results of the Treasury's Net-Zero Review and the publication of the overarching Net-Zero Strategy. Sources have told edie that the Heat and Building Strategy may well be released this week, following delays that have lasted the best part of a year.
The recent cabinet reshuffle will likely have little impact on progress with these policy packages. COP26 President Alok Sharma and Energy Secretary Kwasi Kwarteng have both remained in their respective positions.
The big news since the last edition of this Action Tracker was published has been the launch of the UK's first sovereign green bond package, or green gilts. The £10bn package was more than nine times oversubscribed when books opened on 21 September. Chancellor Rishi Sunak has already committed to an additional £5bn.
Also, Kwarteng has been kept busy by the continuing energy price crisis. Wholesale prices are up 70% on August levels and 250% on January levels.
As for COP26 itself, concerns are growing that the UK is not adequately prepared for the conference in diplomatic terms. The Climate Action Network, an organisation convening more than 1,500 civil society groups across more than 130 nations, has stated that COP26 will not be "safe, inclusive and just", as the UK unit has not made adequate preparations in terms of vaccinations and affordable accommodation. Elsewhere, Australian Prime Minister Scott Morrison has stated that he has not made a firm decision on whether to attend COP6 in person, while representatives from South Africa are considering a boycott. 
Sharma has maintained that COP26 "must go ahead in person" in November, given that it has already been delayed by a year, and given that many key decisions were deferred from COP25 Chile-Madrid in 2019. At least one-third of parties must attend the opening meeting of a COP, and at least two-thirds of parties must attend negotiations, for decisions to pass.
Global policy updates
Keeping the focus on the COP talks themselves, the Guardian is reporting that representatives from the UN, UK and other nations are pessimistic that the outcomes will ultimately align global policy with the Paris Agreement's 1.5C trajectory. The UN's 2020 emissions gap report revealed that the world is on a 2.5C-2.7C trajectory.
The Guardian's coverage came as the UN General Assembly came to a close in New York. The major climate-related agreement was a commitment for governments and businesses to collectively spend more than $400bn on clean energy by 2025. Funding, UN Secretary-General Antonio Guterres said, should be used to meet a "double imperative – to end energy poverty and to limit climate change".
However, low-income and island nations have been imploring developed nations to go further, arguing that levels of climate action at present will spell a "death sentence" for their economies.
UK Prime Minister Boris Johnson's speech at the General Assembly was the subject of much ridicule on social media. He reiterated his plans to focus on "coal, cars, cash and trees" at COP26 and urged nations to "grow up" and "take responsibility for the destruction we are inflicting, not just upon our planet but ourselves".
Better received were US President Joe Biden's pledge to double the nation's overseas climate aid to more than $11bn annually by 2024 and Chinese President Xi Jinping's commitment to end his government's support for coal projects overseas. Jinping is now being pressed to provide more clarity on how China will reduce its domestic reliance on coal.
More recently, the German election counts were finalised in the early hours of this morning (27 September). Angela Merkel's successor will be Social Democrat Party (SPD) leader Olaf Scholz. The SPD has stated that its preference is net-zero by 2045 and that it will consider moving the coal phase-out date forward from 2038.
Business action
Between Climate Week NYC in the US, Great Big Green Week in the UK and World Green Building Week globally, it's been a busy time for sustainable business announcements.
You can read edie's round-up of the many business announcements made at – or to coincide with – Climate Week NYC by clicking here. Highlights include 86 new signatories for the Climate Pledge, co-orchestrated by Amazon and Global Optimism; a commitment for £12bn for Scottish offshore wind firms from Orsted; the expansion of Starbucks' 'Greener Stores' initiative and Walmart's completion of its first green bond issuance, totalling $2bn.
Also summarising the events of Climate Week NYC and Great Big Green Week is the latest edition of edie's Sustainable Business Covered podcast, featuring interviews with The Climate Group's chief executive Helen Clarkson; The Climate Coalition's community organiser Grace Fisher and Beggars Group's head of sustainability Will Hutton. You can stream that episode by clicking here.
To mark World Green Building Week, edie worked with innovation partner Springwise to publish a feature summarising 11 exciting innovations which are helping to make the built environment sector more environmentally friendly. Read it here to find out more about technologies such as AI optimisation systems and carbon-sequestering paint. We have also published a new, free-to-download Business Guide to Net-Zero Buildings in association with Integrated Environmental Solutions (IES). Click here to download your copy.
On the horizon
From 11-15 October, an official opening of the UN's Convention on Biological Diversity will take place online,  including High-Level Segment discussions that will aim to produce a "Kunming Declaration" on a global biodiversity agreement. The Declaration will be ratified after in-person negotiations, which have been pushed back to spring 2022 due to Covid-19.
Then, on 30 and 31 October, G20 nations will meet for this year's summit in Rome. Pre-summit meetings on topics including finance, infrastructure and agriculture have already taken place.
COP26 will formally open on 31 October in Glasgow. Negotiations will begin on 1 November.
Words of wisdom
"It is the biggest economies in the world that are causing the problem, while the smallest suffer the worst consequences.
And while progress is being made all over the world, the gulf between what has been promised, what is actually being delivered, and what needs to happen… it remains vast.
Too many major economies are lagging too far behind.
And tinkering around the edges, simply denuding the tree of its lowest fruit, simply won't achieve the change the planet needs."
Boris Johnson, UK Prime Minister
Sarah George
© Faversham House Ltd 2023 edie news articles may be copied or forwarded for individual use only. No other reproduction or distribution is permitted without prior written consent.