Plastic-free festive food and re-planted trees: How are businesses working to make Christmas more sustainable?
Retailers and delivery firms have faced challenge after challenge in 2020, having to re-adjust ways of working to get essential goods to those in need amid lockdown restrictions. Yet many have also managed to ensure that Christmas won't be the most wasteful - or emissions-intense - time of the year.
---
The year is coming to a close, and all in the sustainability and energy space will be looking forward to a well-deserved break.  But many of us are still trying our best to ensure that the festivities are as sustainable as possible, given how wasteful Christmas can be.
Here, edie looks at some of the ways that businesses large and small are minimising the environmental footprint of their own operations at this special time of year – and how they are helping the general public to follow suit.
Plastic-free festivities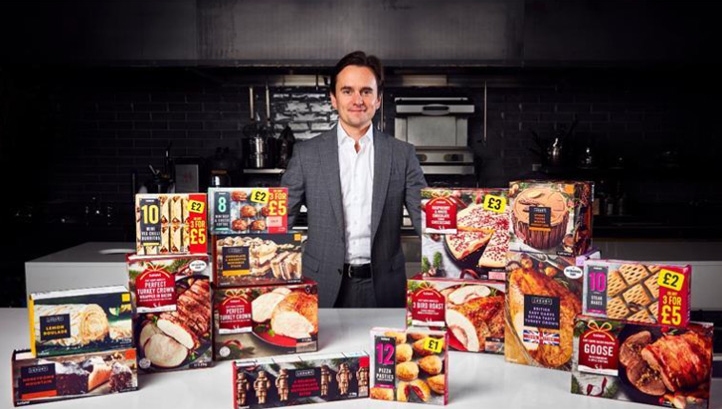 Ever since Blue Planet 2 aired in 2017, plastics packaging has been a top environmental concern among the general public, and retailers have scrambled to change their formats.
Iceland has been among the leaders of this movement; the supermarket pledged in 2018 to remove all single-use plastic elements from its own-brand packaging within five years, in what is regarded as the most ambitious vision in the sector. This year, the business is offering 24 of its own-brand festive products in plastic-free packaging, up from 18 lines last year. A further 16 seasonal products have been housed in packaging with "significantly reduced plastic", up from eight last year. Packaging on these lines is 3% plastic, by weight, on average.
Elsewhere, many of the UK's other major retailers are completing plastic glitter phase-outs for Christmas 2020. Despite its metallic appearance, most glitter is made up of PET plastic bonded to aluminium. This makes it a source of microplastic pollution.
Morrisons confirmed in October that glitter has been completely removed from its own-brand ranges of greetings cards, gift wrap, seasonal items and horticulture in stores. Plans are also in place to extend the phase-out to non-seasonal items. John Lewis & Partners and Aldi have also delivered against the same commitment, but we will have to wait to see glitter-free Christmas offerings from the likes of Tesco.
Dealing with delivery emissions
As lockdown restrictions in many countries forced "non-essential" retailers to close stores, many businesses have relied on e-commerce to weather the financial storm of the Covid-19 pandemic. The ONS estimates that 80% of purchases made in the UK this year have been online.
But e-commerce is not without an environmental footprint – and it has repeatedly been claimed that express deliveries are more emissions-intensive than regular shipping options. Recent research commissioned by Sendcloud found that 57% of shoppers see online shopping as an environmental issue, but that more than eight in ten are more concerned with a timely than an eco-friendly delivery.
To that end, some brands are offering free or discounted offsetting for shipping emissions, including Etsy, which was the first major online retailer to offer this as standard. Delivery giants including Hermes, UPS, DHL, DPD and TNT also offer digital offsetting platforms as they work to integrate more electric vehicles (EVs) and overcome the specific challenges of decarbonising HGVs and last-mile deliveries. The UK Government's decision to bring the petrol and diesel car ban forward to 2030, compounded with the growing popularity of clean air zones, is putting extra pressure on the logistics sector.
Also, two companies managing properties in the logistics sector – Prologis and Tritax Big Box – have forged a new partnership with the aim to deliver a unified net-zero response across the sector. They will work with the UKGBC, their tenants, and consultancies Planet Mark and Cool Earth, to drive down the operational and embodied carbon of facilities.
Oh, Christmas trees
The debate around whether real Christmas trees or artificial alternatives are more sustainable arises every year. But the answer ultimately comes down to how many times artificial trees are used and whether trees are properly treated after the 12 Days of Christmas have finished. The Carbon Trust estimates that the life-cycle emissions of a plastic tree which is burned or landfilled are twice as high as those of a real tree which is burned.
Some local authorities are brands are going one step further and diverting real trees from incineration. Covent Garden's 60ft Christmas tree, which weighs 1,500 tonnes, will be recycled to make wood chips in January. And London Christmas Tree Rental does what it says on the tin – families pay to rent a tree, which is then returned and re-planted, ready to sequester more carbon and be reused at future Christmases.
Look at all these happy & healthy trees that have grown in a pot since saplings. 🙌🏻 Rent a sustainable tree this year that keeps on living after Christmas. #londonchristmastreerental #sustainablechristmas #sustainablechristmastrees #atreeisforlifenotjustforchristmas pic.twitter.com/ddOEx5boBW

— London Christmas Tree Rental (@xmas_treerental) October 25, 2019
Fighting fashion waste
When we think of Christmas waste, wrapping paper and mountains of leftover turkey and sprouts probably spring to mind. But fashion is another big problem. Research carried out by Hubbub last year found that one in three millennials and Gen-Z'ers buy a new Christmas jumper every year, even though 65 million are already languishing in wardrobes across the UK.
And, as with most clothing sold on the high street, most Christmas jumpers contain plastic content. This makes them hard-to-recycle, while also contributing to microplastic pollution in water-based habitats. Hubbub has, therefore, been urging people to re-wear jumpers or purchase them second-hand.
Are you looking for tips on how to have a more sustainable Christmas? 🎄♻️ Hubbub has you covered! Here are our top tips for staying sustainable over the festive period #YouGotThis pic.twitter.com/JmLiin9Ezg

— Hubbub (@hubbubUK) December 21, 2020
One other solution comes from small fashion brand Tom Cridland, which has created a sweatshirt which comes with a 30-year guarantee. When customers buy the sweatshirt, they are entitled to free repairs for the period. Two Christmas designs for the sweatshirt have debuted this year.
Sarah George
© Faversham House Ltd 2023 edie news articles may be copied or forwarded for individual use only. No other reproduction or distribution is permitted without prior written consent.