#OneLess leaders summit
21/11/2019 Museum of London Docklands, London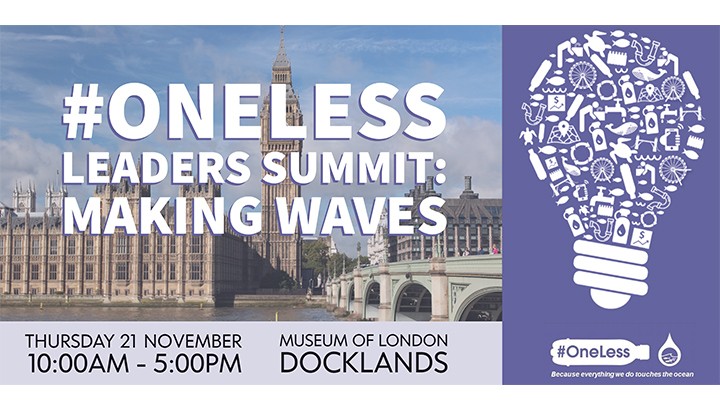 Join us at this exciting event to learn from and connect with organisations that are taking positive action to tackle the unsustainable use of plastic for the sake of the ocean. Be inspired, and get practical insights and advice to help you start or progress action in your organisation.

This event is an unmissable opportunity to learn from pioneering organisations and businesses about their actions to reduce and eliminate single-use plastic bottled water usage in favour of more sustainable options, focusing on refilling and reusing.

Business leaders and pioneers will share their achievements and learnings, providing others with inspiration and unique practical advice. Guest speakers will include representatives from Greater London Authority, Pret A Manger, Selfridges, the Foreign and Commonwealth Office, Lord's Cricket Ground, Shaftesbury PLC, Liverpool University, Royal Lancaster London Hotel – and many more!

This special event includes:
• A keynote presentation from Professor Heather Koldewey (Zoological Society of London and National Geographic).
• Informative, participatory and inspirational sessions with organisations leading action against ocean plastic, designed to help you learn, access practical advice, and take positive action in your own organisation.
• A poster session displaying organisational case studies of action on single-use plastic.
• Networking opportunities to build connections and collaborations.
• A unique attendee-driven session, designed to help you overcome barriers you may be encountering and problem-solve. You'll have the opportunity to put forward questions to form the focus of relaxed and informal discussion groups.

For the full programme and speaker line-up, and to book your place, visit: https://www.eventbrite.co.uk/e/oneless-leaders-summit-making-waves-tickets-69419370205

#OneLess is a campaign working to revolutionise the way London drinks water and reduce usage of that most recognisable symbol of ocean plastic – the single-use plastic water bottle. We've built a movement of businesses, brands, events, venues, public spaces, universities, local authorities, retailers and grassroots campaigns who are all acting to reduce plastic bottled water use in favour of refillable bottles, drinking fountains, fill-up points, and the humble tap.
Contact : Alice Chamberlain
Tel : 0207 449 6480
Fax : N/A

Click here to enquire via email

Add to Calendar
21/11/2019
21/11/2019
Europe/Paris
#OneLess leaders summit
Join us at this exciting event to learn from and connect with organisations that are taking positive action to tackle the unsustainable use of plastic for the sake of the ocean. Be inspired, and get practical insights and advice to help you start or progress action in your organisation. This event is an unmissable opportunity to learn from pioneering organisations and businesses about their actions to reduce and eliminate single-use plastic bottled water usage in favour of more sustainable options, focusing on refilling and reusing. Business leaders and pioneers will share their achievements and learnings, providing others with inspiration and unique practical advice. Guest speakers will include representatives from Greater London Authority, Pret A Manger, Selfridges, the Foreign and Commonwealth Office, Lord's Cricket Ground, Shaftesbury PLC, Liverpool University, Royal Lancaster L...

https%3A%2F%2Fwww%2Eeventbrite%2Eco%2Euk%2Fe%2Foneless%2Dleaders%2Dsummit%2Dmaking%2Dwaves%2Dtickets%2D69419370205
Museum of London Docklands, London
Alice Chamberlain
Alice.Chamberlain@zsl.org
true
DD/MM/YYYY
Visit event website