E-waste: Can businesses solve the world's fastest-growing domestic waste stream?
edie reporter Sarah George places the world's fastest-growing domestic waste stream, e-waste, under the microscope, and investigates how businesses are tackling the global phenomenon.
---
Resource efficiency is now business-critical. From the transformative impact that Blue Planet 2 had in driving consumer demands on plastics, to the number of high-profile companies that have been stung by the fashion's sector linear approach to production, businesses of all sectors and sizes are well aware that stakeholders are examining resource use.
But for all the (welcome) growth in noise around the global plastic pollution problem, and the growing sense of urgency in the fashion sector, little seems to have been said around e-waste. In a society where people are glued to their phones, work around the clock because of their laptops and enjoy unrivalled entertainment through smart technologies at home, the environmental cost of this way of living remain surprisingly hidden.
To summarise the state of play: Research from the United Nations University (UNU) found that more than 44 million metric tonnes of electronic waste was generated globally in 2016 – up 8% on 2014 levels – with just 20% documented as recycled. Experts believe that figure reached 50 million metric tonnes in 2018, with recycling rates stagnating and a further 21% tonnage increase by 2021. 
Most of this e-waste has two things in common: it contains quantities of rare minerals which are typically mined using high-carbon methods and, at the end of its life, it will end up polluting the land or sea in a developing region. 
It is also statistically likely to originate from one of two sources – a business or a household in a developed country. In the UK alone, e-waste is created at a rate of 15kg per person per year, with 1.4 million tonnes landfilled annually. With this in mind, I head out of the edie office to speak with organisations working to plug the stream of e-waste from both of these channels.
Chain of custody
My first stop is a large commercial building in Erskine, a small town near Glasgow. While it may not look particularly high-tech from the outside, it's a different story once I enter and clear security. Across the ground floor of the large, open-plan facility are pallets upon pallets of laptops, phones, data centre units and other hardware – all neatly grouped and being tended to by staff.
The facility plays host to one of Hewlett Packard Enterprise's (HPE) technology renewal bases, whereby all hardware items leased to business clients across Europe, the Middle East and Africa (EMEA) are sent at the end of their lease. While anyone is free to virtually tour the facility online, the chance to look inside means the chance to question the company on its approach to resource efficiency.
"I've always viewed recycling as just above waste," HPE's chief sustainability officer Chris Wellise tells me. "It requires a lot of energy and doesn't guarantee the retention of value. We've put a rather large emphasis on extending the life of equipment, versus recycling."
Therefore, 89% of the items which HPE takes back each year are refurbished. The remaining 11% are separated for recycling.
The ground floor of the facility is packed with processes which each gadget received must go through for both of these channels. Prior to entering the receiving door, items will have been grouped and serial coded, so HPE can tell what they are and where they come from. Once that label data has been read, the items are sent along a conveyor belt for returning to their original manufacturing specifications by a team of engineers, with all data securely removed.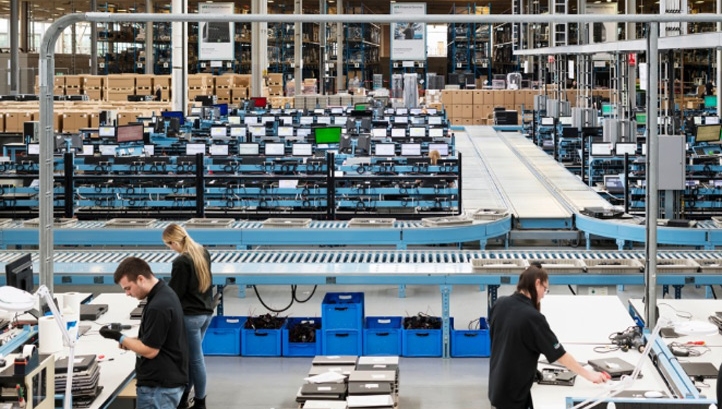 Only in the case of highly confidential data or unfixable faults is any storage hardware destroyed, global asset management director Jim O'Grady explains. "There's no benefit to anyone here in not properly sanitising the devices because you can't resell them unless they are completely wiped," he elaborates.
Once the devices are wiped, any necessary repairs are carried out, with components that are no longer functional separated for recycling. The items are then ready for final testing, a physical clean and packaging for resale. The business which returned the items receives a lump sum back from HPE, once the costs of processing its former hardware are deducted.
O'Grady points out that businesses often store important data on devices with legacy operating systems. Moreover, companies may either be unable to budget for new devices or wish to save money on IT assets in order to spend on innovation.
The oldest product currently on sale from the facility has been in circulation for 40 years.
"Circular economy thinking really helps businesses use IT to meet their business and sustainability targets; tying up capital stranded within legacy assets and also making sure that product lives are extended," Wellise summarises.
Communications challenges
For HPE, the business case has strong foundations and the "chain of custody" is robust. But, as Wellise explains, challenges persist in helping businesses to understand the most circular-economy-compatible route for their electronics – and in getting them to stop over-ordering hardware in the first instance.
To that end, HPE offers client advice regarding how much hardware they need in order to both manage peaks in use and prevent excessive waste. It also gives clients a certificate after their equipment is returned, detailing the processes it has undergone and the second life it will receive.
Wellise is right, the business case for a closed-loop approach is robust. Leasing technology is like a smartphone, it is developed and becoming cutting-edge, albeit in need of a bit of fine-tuning. Consumer electronics, however, are a different ordeal, akin the cluttered drawer full of old chargers, Nokia phones and perhaps an old Walkman.
One study reveals that three-quarters of Brits wouldn't consider repairing their devices before throwing them out, and another warns that more than nine in ten are hoarding old hardware – largely due to fears over data security.
The first study was carried out by eSpares, an e-retailer selling spare parts for domestic appliances across the UK, US and several markets in mainland Europe.
The firm's purpose beyond these products, head of brand Adam Casey tells me, is to "change the psyche" around repairs by "giving people confidence" to fix their own goods. To that end, eSpares also offers video tutorials, written 'how-to' guides and access to advice via web chat and call centres.
 "With what's been going on around plastics, I think people are definitely beginning to consider their contributions to throw-away culture and the environmental impact that's having," he elaborates. "We've definitely seen, through all our channels, that the audience is climbing; there's an appetite for wanting to know if – and how – repairs can be done."
Fatal hurdles
Even if there's a will to fix, people often feel there isn't a way.
Casey recounts instances in which people have thrown out entire fridges because they misdiagnose "simple fixes" as "fatal problems" – arguing that access to knowledge and education could prevent this trend – and recounts cases of customers being unable to access the inner components of their appliances due to their design.
"Interestingly, there is a lot of pressure on manufacturers to give end-users more availability to get into the inner parts of their appliances – especially with grassroots repair movements popping up," Casey says. For example, Repair Cafés have grown from a one-location movement in 2009 to more than 1,500 locations globally. 
This pressure this week culminated in the EU introducing 'right to repair' legislation, requiring household appliance manufacturers to design longer-lasting products with more easily accessible internal components. From 2021, such firms will also have to supply spare parts for up to 10 years.
But, in the meantime, each European is anticipated to generate 10kg of e-waste per year – and manufacturers will not be made to offer take-back schemes or to pay for collection and recycling through Extended Producer Responsibility (EPR) schemes, two solutions that have proved popular in the fight against single-use plastics. 
Here in the UK, the Government's first update to its Resource and Waste policy in more than a decade aims to address the EPR issue. But some businesses, such as Dixons Carphone, are urging Ministers to go one step further and mandate take-backs for all technology retailers – as was done for batteries in 2010.
The retailer's compliance & recycling operations manager Matt Manning recounts to me the workings of the business's in-store take-back scheme and explains that, since the scheme was extended to home deliveries, its WEEE recycling volumes are up 375% year-on-year.
#Recycling makes the world go round. ♻️🌍

Do you have unwanted phones lying around? Drop them into any of our stores: we'll recycle them responsibly for free and help save the planet.
#RecyclingWeek pic.twitter.com/DWdhpqFM45

— Carphone Warehouse (@CPWTweets) September 27, 2019
In other words, people are keen to recycle their old goods but are often put off over inconveniently located collection points. 
"Other than community collection points, there aren't many locations offering this service – and for a lot of people, these won't be within a three-mile radius," Manning says.
"Retail parks and supermarkets are certainly well-suited for the take-back of waste electricals, because people visit them every week, as opposed to about once a year for a dedicated electricals store like Currys or PC World, and because they're usually in more convenient locations than tips."
Systems change
Indeed, the introduction of mandatory battery take-backs by retailers has resulted in a surge in collection rates from 9.5% in 2010 to 44.89% in 2018.
From the conversations I've had with Manning, Casey and HPE, however, it's clear that mandatory take-backs would only solve one piece of the puzzle – in which the population is growing, economies are becoming increasingly digitised and we are marketed swathes of new gadgets every year, many of which are designed for obsolescence. As HPE's Wellise tells me, solving the global problem will require businesses, policymakers and consumers to "rethink and completely disrupt the linear economy".
His steps for delivering this disruption? "Designing out waste, energy inefficiency and pollution"; "using materials that have less impact, while maintaining performance"; "keeping products and materials in the cycle longer" and, crucially, "regenerating natural systems.
It's no small feat, but with climate activism growing globally and conversations finally starting to encompass the importance of circularity and biodiversity, it feels possible. And with a recent landmark report on persistent organic pollutants (POPs) in e-waste and their impacts on human health currently sending shockwaves through market pricing and policy approaches, it's clear that no business can afford to be left behind. 
Sarah George
© Faversham House Ltd 2023 edie news articles may be copied or forwarded for individual use only. No other reproduction or distribution is permitted without prior written consent.