London's low-emission buses and Ralph Lauren's recycled plastic shirts: The sustainability success stories of the week
As part of our Mission Possible campaign, edie brings you this weekly round-up of five of the best sustainability success stories of the week from across the globe.
---
Published every week, the new series charts how businesses and sustainability professionals are working to achieve their 'Mission Possible' across the campaign's five key pillars – energy, resources, infrastructure, mobility and business leadership.
From Ball Corporation's commitment to go all-in on renewable electricity in the US, to the unveiling of closed-loop Ralph Lauren shirts made using recycled plastic bottles, each of these projects and initiatives is empowering businesses to play their part in achieving a sustainable future, today.
ENERGY: Ball Corporation to power US operations with 100% renewable energy
Having recently set science-based targets within the company's direct operations and across its supply chain to reduce its emissions intensity by 58% by 2030, global packaging giant Ball Corporation this week inked a string of deals to power its US operations with 100% renewable electricity by 2021.
The firm has signed two separate virtual power purchase agreements (VPPAs) covering 161MW of wind capacity in Oklahoma and 227MW of solar capacity in Texas, claiming that the addition of these two projects to its existing clean energy portfolio will enable it to cover 100% of its North American energy load by 2021. These two projects alone are set to enable Ball to reduce its overall global Scope 2 emissions by 50%.
"These renewable energy agreements place Ball among the leading corporate buyers of renewable energy in our industry and the US, marking a critical moment in our sustainability journey, and are a demonstration of our commitment to have the aluminium can recognised as the most sustainable package," Ball's chairman, president and chief executive John Hayes said.
RESOURCES: Ralph Lauren unveils closed-loop Polos made from plastic bottles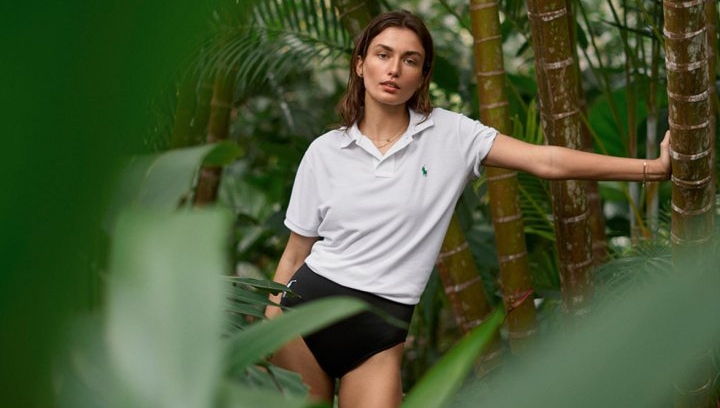 From The North Face's range of T-shirts and tote bags made from littered PET bottles, to Adidas' ocean plastic trainers, companies across the fashion sector are piggybacking off the back of the Blue Planet 2 effect to take advantage of closed-loop plastic materials.
Continuing this trend, US-based luxury brand Ralph Lauren has teamed up with recycling firm First Mile to launch a range of its most iconic product – Polo shirts – made from 100% recycled bottles. Each of the shirts is made in Taiwan using 12 post-consumer plastic bottles sourced from within the nation, with Ralph Lauren claiming that the dyeing process for the resulting fabric is "waterless".
Ralph Lauren's chief innovation officer David Lauren said the Polo shirts – which are called the "Earth Polo" and retail for £95 each, the same as their cotton predecessors – will play a key role in the company's commitment to removing 170 million plastic bottles from the environment by 2025.
"Every day we're learning about what's happened with global warming and what's happening all around the world, and our employees and our customers are really feeling that it's time to step up and make a difference," Lauren said.
"Plastic waste is a major issue threatening the environment – we want to be part of the solution and utilise an innovative approach to create something valuable."
MOBILITY: London Mayor and TfL launch three new low-emission bus zones
Following the launch of the capital's first Low Emission Bus Zones (LEBZs) last November and, more recently, the implementation of the Ultra-Low Emission Zone (ULEZ) in central London, London Mayor Sadiq Khan and Transport for London (TfL) this week turned three additional LEBZs live.
The zones, in Lewisham, Stratford and Edmonton, collectively cover more than 1,330 buses operating across 79 different routes. Only buses which meet the Euro 6 standard are permitted to operate in these zones, with TfL and the City of London investing in a combination of new hydrogen-electric buses and retrofits to existing vehicles in order to guarantee compliance.
There are now ten LEBZs in Greater London. Khan claims that the total number of clean buses introduced as a result of their implementation stands at more than 3,000, once the three new zones are accounted for. He is currently striving to make all London buses zero-emission by 2037 – an aim which includes milestone goals of operating 240 e-buses by the end of 2019 and ensuring every single-decker bus is fully electric by the end of the following year.
"London is facing an air quality emergency, with pollution from vehicles, including buses, responsible for over half the harmful emissions we breathe," Khan said.
'Our existing LEBZs have dramatically reduced pollution and improved the health of thousands of Londoners who live or work along the routes , so I'm delighted we can now bring the benefits to Lewisham, Stratford and Edmonton."
THE BUILT ENVIRONMENT: Moat Homes to develop UK's first 'zero-carbon' retrofitted housing
Earlier this week, housing association Moat Homes revealed that it has partnered with energy firm ENGIE to complete a retrofitting project in Essex, which is set to see five homes achieve "near" zero operational carbon status.
The homes are being renovated using the "Energiesprong" model, which focuses on the exterior of the buildings and involves fitting the outside of the building with new walls, windows, a solar roof and new electrical heating systems. Roof-mounted photovoltaic (PV) panels coupled with battery storage systems, triple-glazed windows and Mechanical Ventilation with Heat Recovery systems are among the technologies due to be installed at the homes.  
The long-term aim for the properties is for them to become fully self-sustaining, ideally drawing minimal, if any, energy from local grids. The project is being co-funded by ENGIE, Moat Homes and the European Union (EU), with ENGIE set to maintain the homes and guarantee their energy performance for a 30-year period.
Moat's director of property services Jason Amos said that by proving the retrofit concept, the company could pave the way for larger scale uptake of  "Energiesprong" homes and "help the Government meet carbon reduction targets, whilst simultaneously combatting fuel poverty issues".
BUSINESS LEADERSHIP: Allbirds targets carbon neutrality through internal carbon tax scheme
Also on the topic of carbon neutrality, B Corp certified shoe brand Allbirds this week unveiled a new ambition of achieving net-zero status, which has been set on an ongoing basis.
In order to reach the aim, the firm has imposed an internal carbon tax which requires key business departments to make a financial contribution to a "carbon fund", equivalent to their emissions. This funding will be spent on emissions-reduction projects within the company and across its supply chain, as well as funding carbon offsetting projects such as reforestation initiatives and renewables projects equivalent to all "residual" emissions. Decisions as to which green projects should be funded through the offsetting pot will be made by customers, who will be given the chance to vote every time they make an online or in-store purchase.
"Businesses — whose carbon footprints are way bigger than any individual's — need to change," Allbirds' co-founder Tim Brown said.
"We'll be the first to admit that this is a marathon, not a sprint, and that there's much more work to be done. But just like with the rest of our brand, we're making the commitment that the Allbirds Carbon Fund will continue to grow and change as we find new ways to get better."
Sarah George
© Faversham House Ltd 2023 edie news articles may be copied or forwarded for individual use only. No other reproduction or distribution is permitted without prior written consent.