One month to go: edie's online event for CSR reporting and communications
Running from 5-8 May, edie's Engagement Week 2020 will includes exclusive interviews, podcasts, reports, webinars and in-depth feature articles - all dedicated to helping sustainability and CSR professionals drive stakeholder engagement through robust reporting and captivating communications.
In what is a disruptive time for workers all over the globe, it has never been more important to engage with work colleagues, staff, suppliers and stakeholders, not just for your own peace of mind, but to remind them that sustainable business is a long-term journey that requires constant attention.
As such, edie's Engagement Week is aimed at sustainability professionals who are looking to improve and streamline ways to report and communicate on progress to mitigate climate impacts and deliver sustainable business models. It will include an array of exclusive interviews and blogs, insight reports, podcasts and a brand-new online event.
On Thursday 7 May from 1pm–4pm (BST), edie will host online Sustainability Reporting and Communications Sessions are targeted at individuals who are looking to enhance their sustainability reporting practices and adopt innovative communication techniques to build personal engagement and drive meaningful change.
The online event, which is free to access for all edie users, combines three edie webinars into a single afternoon. Each webinar session will have its own edie chair and selection of independent expert speakers, and each session will take a particular format.
--- REGISTER FOR THE REPORTING AND COMMUNICATIONS ONLINE EVENT HERE ---
Registrants can choose to tune into one, two or all three webinar sessions on the day – and the full collection of sessions will be made available to watch on-demand afterwards.
Full details of the three webinar sessions are as follows:
1) ENGAGE Q&A: Shaping the future of sustainability reporting and communications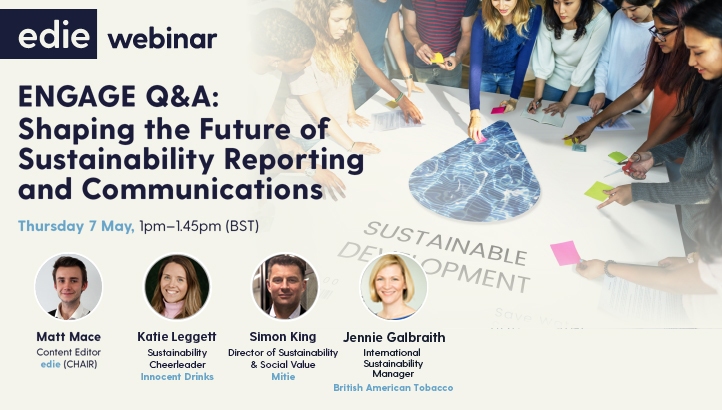 Timings:
1pm–1.45pm (BST)
Synopsis:
Kicking off our Reporting and Communications Sessions, a selection of CSR leaders and reporting/communications experts discuss how the sustainability conversation is changing; what new reporting approaches and frameworks are emerging, and what you can do to stay ahead of the communications curve.
Speakers (provisional):
Matt Mace, Content Editor, edie (chair)
Katie Leggett, Sustainability Cheerleader, Innocent Drinks
Simon King, Director of Sustainability & Social Value, Mitie
Additional Speaker TBC
Discussion points:
Using the 'Greta' and 'Blue Planet 2' effects to your advantage
How CSR reporting will change in the 2020s
Driving engagement with the Sustainable Development Goals (whilst avoiding 'rainbow-washing')
2) The Communications Power Hour: Best-Practice Case Studies to Increase Engagement and Change Behaviours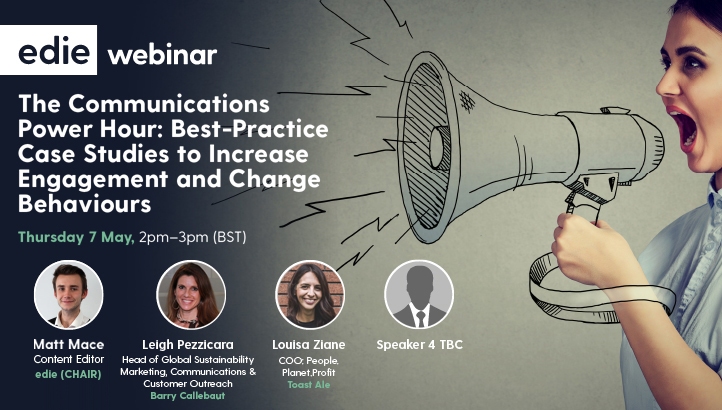 Timings:
2pm–3pm (BST)
Synopsis:
It's time to change the sustainability conversation. Our second Session offers up a series of quick-fire case studies, hearing from some of the individuals and organisations that are unleashing the power of purpose to engage stakeholders, spark behaviour change, increase transparency and build trust.
Speakers:
Matt Mace, Content Editor, edie (chair)
Leigh Pezzicara, Head of Global Sustainability Marketing, Communications & Customer Outreach, Barry Callebaut Group
Louisa Ziane, Sustainability Director, Toast Ale
Additional speaker TBC
Discussion points:
The key ingredients of a powerful communications campaign
The art of great sustainability storytelling
Measuring the impacts of your engagement and behaviour change strategy
3) 45-Minute Masterclass: Taking your sustainability reporting onto the next level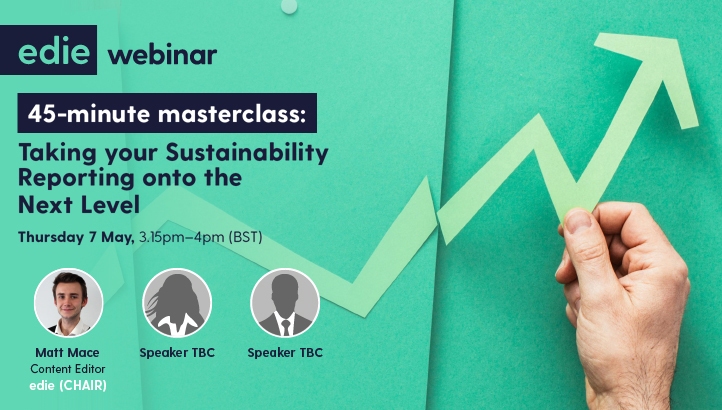 Timings:
3.15pm-4pm (BST)
Synopsis:
The way sustainability is reported is changing – from the emergence of new standards and frameworks to the increasing demand for ESG and climate-related disclosures. Our third and final Session will equip you with the tools and techniques to evolve your sustainability reporting strategy in a way that increases engagement and drives meaningful change.
Speakers:
Matt Mace, content editor, edie (chair)
Masterclass presenters TBC
Discussion points:
Standards, frameworks and assurance: Cutting through the complexity
TCFD and climate-related disclosures: The need to know
Reporting in the digital age: What happens next?
Reports
On Tuesday 5 May, edie will publish a Sustainability Reporting and Communications Handbook 2020, which provides readers with expert advice when it comes to relaying the importance of sustainability to key stakeholders; along with fresh insights to create, deliver and share a compelling sustainability report.
The report is effectively broken into two parts: with the first part looking at powerful sustainability communications approaches among five different audience segments; and the second part exploring five key development areas in the world of sustainability reporting.
edie will also be publishing the findings from a Sustainability Leaders Forum pre-event workshop that offers best-practice measures to engage with investors on sustainability.
Interviews and blogs
Starting from Tuesday 5 May, edie will run a series of exclusive interviews, and in-depth deep dives exploring effective communications and reporting strategies with businesses that will be announced in due course
Podcast
Finally, on Friday 8 May, edie's Sustainable Business Covered podcast will broadcast an ENGAGE special feature exclusive interviews with businesses and organisations that have excelled in engaging with consumers, staff, investors, suppliers and other key stakeholders.
edie staff
© Faversham House Ltd 2020. edie news articles may be copied or forwarded for individual use only. No other reproduction or distribution is permitted without prior written consent.