'A national first': UK generates more electricity from renewables than gas
The UK's electricity generation from renewable sources surpassed generation from gas for the first time since records began during the third quarter of 2019, the latest Government figures have shown.
---
In its latest renewables update, covering July-September 2019, the Department for Business, Energy and Industrial Strategy (BEIS) reveals that renewable electricity generation during the period was 28.8TWh, compared to 28.6TWh for gas.
The update states that 28.8TWh was equivalent to 38.9% of generation during the quarter – the highest generation proportion secured by renewables on record. Wind alone comprised 19% of generation during the quarter.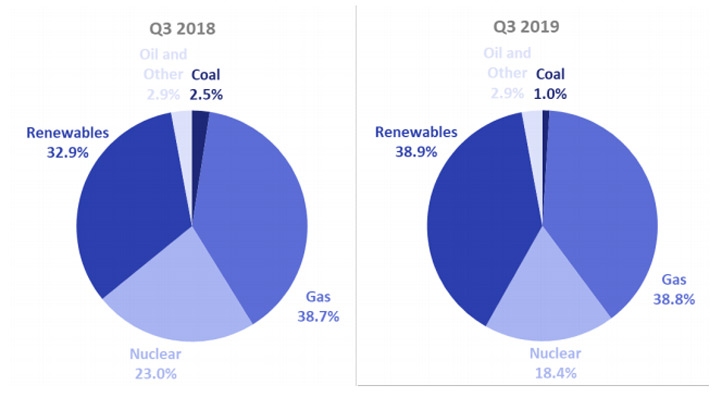 BEIS attributes the success of renewable generation during this period to increased load factors and generation capacity for wind, taking into account both seasonal weather and the initial investments compounded by the Offshore Wind Sector Deal.
Onshore wind experienced a 24% quarter-on-quarter increase in generation and offshore wind saw a 43% increase within the same metrics.
While generation levels from solar and hydropower plateaued on both a year-on-year and quarter-on-quarter basis, the update does document an uptick in bioenergy generation and consumption. Bioenergy generated 12% of the UK's electricity in the third quarter of 2019, compared to 11.5% in the third quarter of 2018.
As for consumption outside of the electricity space, the update documents a 29% year-on-year increase in biodiesel consumption in transport. This increase means that liquid biofuels accounted for 5.8% of road transport fuel consumed in the UK during the quarter, compared with 4.9% during the same period in 2018.
Fuel for thought
On the biofuel piece, the renewables update comes shortly after the UK Government recently launched a consultation on how to make E10 – a lower-carbon fuel mixed with 10% ethanol – to become the standard grade of petrol at UK stations from 2021.
Current petrol grades in the UK already contain up to 5% bioethanol, which is called E5. Integration of E10 petrol would boost the percentage to 10%, but, according to some analyses, may not be compatible with as many as 800,000 older vehicles.
On HGVs specifically, the UK Government is backing trials of biomethane trucks in the hopes of helping to bring the technologies to maturity, scale, and, eventually price parity. Corporate supporters of biomethane trucks include the likes of Asda and John Lewis Partnership.
Away from road transport, biofuel is also expected to play a larger role in the UK's shipping and heating industries going forward, given that the UK's liquefied petroleum gas (LPG) industry has pledged to transition to 100% biofuel by 2040.
Sarah George
© Faversham House Ltd 2023 edie news articles may be copied or forwarded for individual use only. No other reproduction or distribution is permitted without prior written consent.