Servitisation and social media storytelling: How retailers are approaching sustainability in 2020
January is now probably just as synonymous with retail discounts as it is with New Year's resolutions. But following a year of unprecedented climate activism, how are retailers planning to increase sustainability action and embed a 'purpose-beyond-profits' approach in 2020?
---
edie recently convened a group of sustainability leaders from businesses across the UK's retail sector – including suppliers, brands, e-tailers and big high-street names – to discuss just that.
Hosted in association with Bioregional and PHS and chaired by Hengist Inspired's managing director David Picton, the session took place in the wake of Black Friday and in the run-up to Christmas, during the busiest period of the year for any retailer.
Against a backdrop of increasing business rates, rapid digitalisation and mounting consumer concerns about the environmental impact of products, the mood in the room was bittersweet. Attendees all said they were keen to collaborate and get ahead of these trends, delivering benefits across the triple bottom line.
Centred around the topics of consumer engagement, innovation, supply chains and the circular economy, the discussion prompted participants to think about how they can transform their business models in 2020, in line with both changing legislation and the pace of consumer activism.
Here, edie rounds-up six of the actions which participants said their businesses will be working to deliver in 2020 and beyond.
1) Shifting to service-based business models
The roundtable discussion began on a positive note, with several speakers arguing the case for optimism in a difficult time for the retail sector. Nestle UK & Ireland's head of sustainability Anna Turrell claimed that companies willing to "cut through tension" can reap "huge opportunities".
Given that humanity is currently consuming the Earth's annual allowance of natural resources by mid-summer, participants concluded that true leadership in 2020 will require more than incremental improvements, with several touting their organisations' past, present or planned forays into service-based models such as repair, rental and customisation.
Drivers behind this shift, it was agreed, are economic as well as environmental. With online sales now accounting for one-fifth of the UK's total retail, speakers concluded that one-way transactions are no longer enough to garner footfall in physical stores – and that an "experiential" approach may be needed.
"The ability to rethink the way you fundamentally create value for your customers and shareholder will reap great opportunity," The Lego Group's director of zero impact Andrew McMullen said.
"The purpose of Lego is… not to sell bricks [but]… to get kids to play and be creative."
McMullen noted, however, that Lego's willingness to transform its business model is likely helped by its structure, and said he appreciates that this is not a "one-size-fits-all" approach.
Walgreens Boots Alliance's CSR manager Giulia Ferrati agreed, claiming that it would be "very difficult" for her firm to pilot a "Patagonia-style" repair model approach – "at least in the short term".
But Hammerson's environment and energy manager Kate Neale concluded that these challenges should not be faced with a defeatist attitude – lest retailers face rising resource costs and a failure to appeal to investors and consumers. "The longer you leave it, the harder it gets," she said.
John Lewis Partnership's sustainable development manager Phil Birch agreed, adding that businesses could "tap into new markets and products" without a complete overhaul. He noted his company's successes in introducing and promoting more plant-based foods; trialling packaging-free groceries and offering fashion take-back, while continuing to rely on a traditional model for most sales.
2) More nuanced communication
"I'm certainly feeling this disconnect between customers wanting simple answers, and the complex problems we face," Bewley's Tea and Coffee's group sustainability manager Louise Whitaker said, after Picton introduced the next topic on the agenda – consumer engagement.
"Communicating in a way that gets across why we can't fix these issues overnight is the biggest challenge we're facing…We're missing a holistic approach in the narrative. All aspects of sustainability are connected; it's not that you have to choose between low-plastic or low-carbon. But you can't put this across in a tweet, or in two lines of text on the side of a bottle."
Whitaker's concerns were shared by several other participants, with many saying their efforts to celebrate sustainability achievements or launch new initiatives on social media had led to a barrage of criticism.
ASOS's senior sustainability manager Tom Byrne told of how he and his team had addressed this challenge by engaging directly with consumers in an optimistic manner and being willing to discuss the intersection between various sustainability issues, such as emissions and packaging.  
"We know we aren't perfect and that when we post a good news story, there will be comments saying 'but what about the other things you're doing?," Byrne explained. "We don't ignore those comments; we explain our position and say 'we'll take that on board'. Some of the best ideas we've had come from our customers."
Byrne noted that ASOS's progress in this space has been helped by its dedicated sustainability FAQ pages, where customers can find information in more depth.
Another key engagement-related discussion point was around how retailers can communicate with consumers who are busy or less informed about environmental issues, and therefore actively looking for a concise answer amid the noise.
Amazon's EU lead for sustainability Adam Elman said his team's work has largely been on making products with sustainability credentials more appealing, so this demographic choose them without the need for extensive behaviour change schemes.
"Most people just want to buy something that makes their life better…. that's the real sweet spot," Elman said.  "Most people with a Kindle probably didn't choose it because it's more sustainable, they choose it for convenience. But it's completely de-materialised the book industry."
"Retailers need to open that dialogue, find out how their customers are talking, and position these offerings as not only the best for the planet – but the most convenient, or fun," Bioregional's sustainability expert Claire Brady agreed.
3) Transparency through storytelling
In the digital age, no conversation about sustainability communications would be complete without a focus on transparency. A recent survey of more than 3,600 adults across Europe found that seven in ten would choose a brand they trusted to tell the truth about its impact over their favourite. The same study found that more than 90% of corporates have noticed a rise in public interest in transparency since 2017.
Bioregional's Brady acknowledged that deep supply chain auditing and the development of new reporting practices and communications campaigns to meet this trend will be a lengthy task for many big brands. A starting-point while these activities are conducted, she argued, could be multimedia storytelling – which has been made easier in recent years by the launch of features such as Instagram Stories.
"Small, innovative businesses with purpose at their core are showing customers everything," Brady said.  "They do Instagram stories showing how their products are made, from who the local printers are and what kind of ink they use, to how they ship. They're pulling back the covers to talk about the choices they are making, which means, even if you only buy one thing from them, you're better equipped to understand where products come from and how they're made in any store.
"I don't think [many] big brands have got a full understanding of this."
Participants nodded and made notes as Brady spoke, with some citing examples of corporate success in this space. Google, for instance, uses a virtual reality (VR) experience called "Made By Me" to offer "tours" of its factories and a gold mine in its supply chain. 
4) Louder policy lobbying
Throughout the roundtable, one particular barrier was discussed more than others: Policy.
Speakers attributed their communications challenges, in part, to a lack of shared definitions for terms such as "biodegradable", "compostable", and even "sustainability". They argued that investing in plastic-free packaging, rental and repair, low carbon products, and so on, would be easier to pitch to the board if the business case were better supported by the Government. While praising the long-term clarity offered by the 2050 net-zero target, they added to calls for more targeted action in the short-to-medium term alongside more rapid implementation of the Resources and Waste Strategy.
"We're living through this moment where, in the absence of coherent regulation and policy that would create a level playing field, there are these moments of competitive advantage…that's not a bad thing – we need that pressure; but my concern is that, without something bigger to create coherence, there's the potential for unintended consequences," Nestle's Turrell said.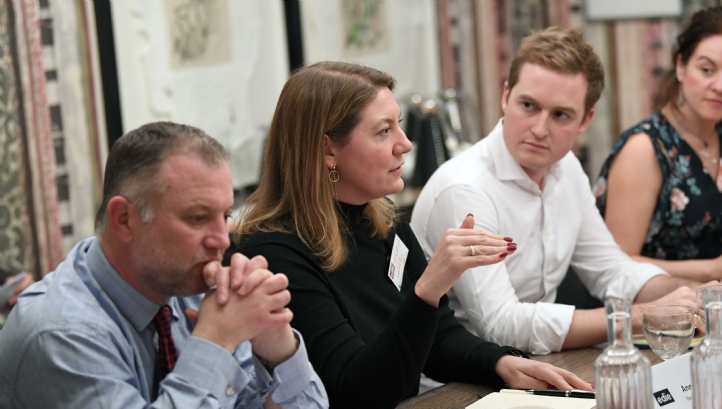 "It's incumbent on us as businesses to step into an advocacy space unlike we've ever done before. We need to be a voice at the table telling policymakers: 'This is what's feasible right now, this is where we think we can get to, this is where we know we need to get to'."
Carlsberg UK's sustainability manager Peter Statham agreed, arguing that businesses which are seen to be ahead of legislation on environmental issues can "only stick their necks out so far before they need legislation to catch up" if they are to maintain profitability.
These sentiments echo a recent call to action from Facebook's former sustainability director and Google's former clean energy czar Bill Weihl.
5) Unexpected collaborations
To ensure policy lobbying is taken seriously and results in the implementation of effective legislation, speakers agreed that collaboration will be key.
Olam's Global Head of Corporate Communications Briony Mathieson was particularly vocal on this point, arguing that businesses will move beyond "natural collaborations" – those in which two or more organisations make "incremental changes that deliver mutual benefits" – in 2020.
"I hear so much about continuous improvement or capacity building – these terrible clichés that make me want to shout 'let's just get stuff done'," Mathieson said. "I think that driving really unusual forces together will make real change."
For Mathieson, one of Olam's more unusual collaborations has been with a software firm, to map schools across its supply chains and, therefore, identify potential "hotspots" for issues like child labour.
Bewley's' Wilson agreed, noting the uptick in partnerships between food and drink firms and waste management companies in recent months, over growing public concern around food waste and single-use packaging – particularly coffee cups. She argued that such a partnership may have previously been branded "unusual" or "unsexy".
Indeed, on these issues, many food-to-go brands are collaborating with competitors as well as value chain actors which have previously been excluded from the conversation, through initiatives such as Hubbub's recycling campaigns.
John Lewis Partnership's Birch pointed out that, as businesses are pushed to upscale low-carbon or resource-efficient technologies in line with long-term goals – perhaps in the absence of shorter-term policy clarity – communication with direct competitors can be key. The retailer is open about the fact that it wants more businesses to adopt biomethane trucks so that costs can be decreased and emissions reductions maximised, with Birch explaining that fleet staff have welcomed competitors to view the vehicles in person.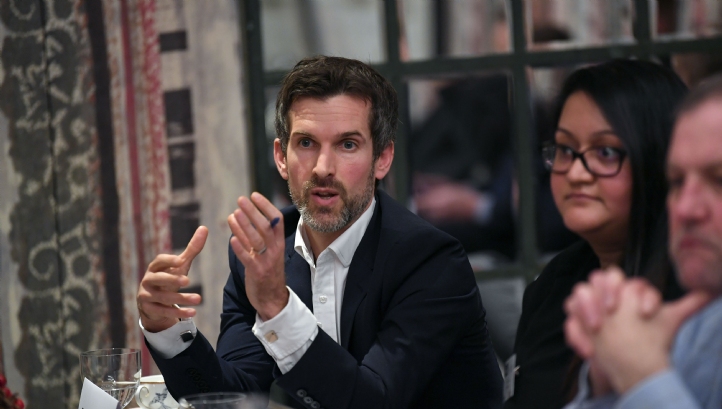 6) A broader approach to plastics
In 2019, no conversation about sustainable retail would be complete without a mention of plastics. Speakers told of how the 'Blue Planet II effect' had reached their businesses, with customers partaking in "mass unwraps", writing angry letters and increasingly plumping for packaging-free or low-packaging offerings.
But they also suggested that the "war on plastic" could evolve into a war on single-use in 2020, as awareness around the impact of alternatives such as paper-based materials and aluminium grows – and that if this
"Solely focusing on getting plastics out of the hands of consumers can lead to the use of higher-carbon materials, and doesn't always mean minimising plastics across the supply chain," Carlsberg UK's Statham said. "Shifting the conversation to be broader than plastics is one of the next big challenges."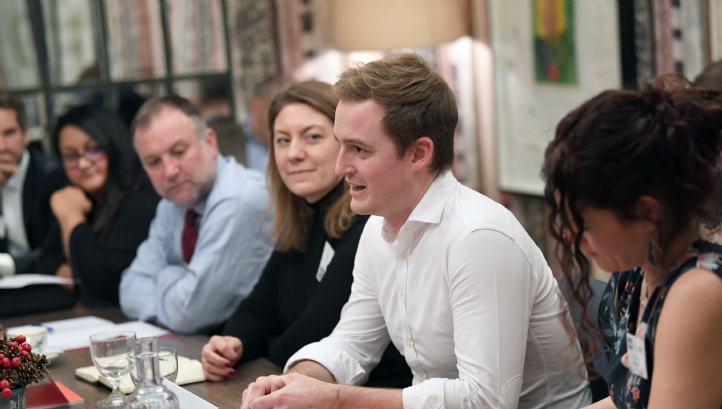 For some speakers, this broadening conversation will include investment in – and lobbying for – better recycling infrastructure in the UK. Items such as flexible plastics are not currently collected at the kerbside, for example, but alternatives are proving costly or otherwise impractical for many big businesses.
Because these moves are less visible to the public than simply changing consumer-facing packaging, participants emphasised once more the importance of transparent, honest and nuanced communications.
"In this conversation, you have to be brave enough to be challenged and to explain why you're doing what you're currently doing," ASOS's Byrne summarised.
phs Group's head of marketing and corporate affairs Brett Fleming-Jones and others also highlighted the need to continually address "low-hanging-fruit" in the packaging space, such as lightweighting, if businesses are not placed to go plastic-free.
Fleming-Jones said: "[Lightweighted] bottles still do the job but the redesign is driving the bottom line as well as fulfilling a consumer desire for less plastic. I think there's a very interesting balance between conversations being driven by consumers, from the bottom up, and by cost, from the top down."
Sarah George
© Faversham House Ltd 2023 edie news articles may be copied or forwarded for individual use only. No other reproduction or distribution is permitted without prior written consent.