Businesses not examining carbon impact of plastics alternatives, edie survey finds
An edie survey of almost 300 sustainability and resource professionals has found that almost 50% of businesses haven't examined the carbon impact of single-use plastics alternatives, amidst growing calls for businesses to intertwine actions on plastics and climate change.
---
edie's survey was sent to registrants of the Business Leadership Inspiration Sessions on single-use plastics, an online event which took place on Thursday 16 January. Of the 287 respondents, almost 59% of respondents said that their organisation hadn't set a public target on plastics yet, despite many businesses noting that public targets can send a strong message to suppliers and markets. In comparison, 34% said their organisation did have a public target on single-use plastics in place.
Just under half (49%) claimed their organisation hadn't examined the carbon impact of single-use plastic alternatives, compared to 39% that have.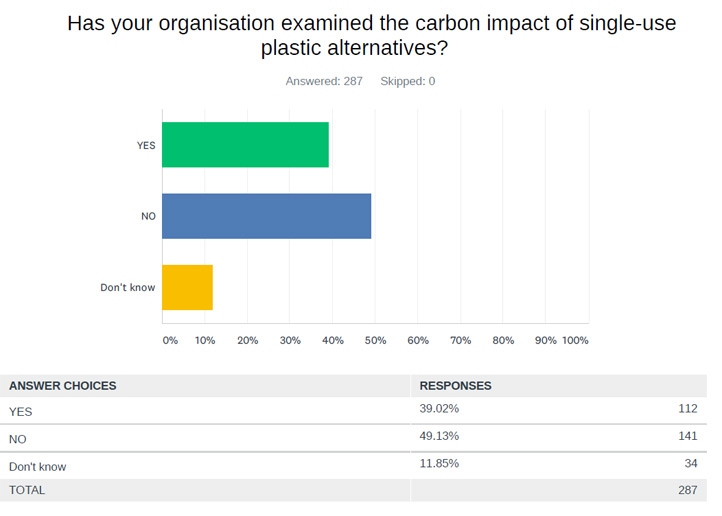 With Nestle's head of sustainability Anna Turrell and A Plastics Planet's co-founder Sian Sutherland joining the growing calls for businesses and consumers to view the war on plastics view the lens of the climate emergency, businesses need to realise the ramifications of switching to plastics alternatives.
The majority of plastics are produced through fossil fuel production, whereby the oil or gas is broken down into hydrocarbons and remade into plastics resins. While stakeholders and the public are aware of the fossil fuel industry's contribution to climate change, the discussion on the role of plastics in fossil fuel uses remains relatively untouched.
By 2050, the plastic industry is estimated to account for 15% of global greenhouse gas emissions and if plastics production continues at its current pace, by 2030 the emissions associated with production would reach 1.34 gigatonnes annually –  equivalent to the emissions released by more than 295 new 500-megawatt coal-fired power plants.
That is one of the headline figures of the Centre for International Environmental Law's (CIEL) Plastic and Climate report, which found that in 2019, the production and incineration of plastic will produce more than 850 million metric tons of greenhouse gases—equal to the emissions from 189 five-hundred megawatt coal power plants.
"Using renewable energy sources can reduce the energy emissions associated with plastic but will not address the significant process emissions from plastic production, nor will it stop the emissions from plastic waste and pollution," the report states.
"Worse, low-ambition strategies and false solutions (such as bio-based and biodegradable plastic) fail to address, or potentially worsen, the lifecycle greenhouse gas impacts of plastic and may exacerbate other environmental and health impacts."
While the carbon impacts of plastics, especially single-use plastics are severe, there aren't too many clear studies into the impact of alternatives, especially at a volume where they would take part of plastic's overall market share.
Lack of methodology
A new report from the Green Alliance has shown the companies are under "considerable and justified pressure" to move away from single-use plastics, often at the expense of carbon impacts and recyclability of alternative materials.
The report notes that interviewees felt that not all changes to remove or replace single-use plastics had been considered through the lens of additional environmental impacts and increased carbon footprints.
One supermarket representative said: "We are aware that [by switching from plastic to other materials] we may, in some cases, be increasing our carbon footprint."
Companies such as Sky, Carlsberg, Nestlé and McDonalds all use lifecycle analysis to some extent, but there is concern amongst businesses that a lack of an "agreed methodology" for assessing material impacts was causing confusion as to whether plastics would function better than glass or paper in some cases.
Specifically, the US Environmental Protection Agency (EPA) estimates that each gram of plastic resin generates more than 1.1 grams of CO2 equivalent, while the beverage industry estimates that a 500ml plastics water bottle has a carbon footprint of more than 82g.
According to the Environment Agency, plastics may be a better option than paper. A 2006 study of plastic bag alternatives found that paper bags had to be used four or more times to "reduce its global warming potential to below that of the conventional HDPE bag".
The same report notes that the environmental impact of carrier bags is "dominated by resource use and production" with transport, secondary packaging and end-of-life processing having a minimal influence on carbon emissions in comparison. This differs from glass, for example, which is heavier and increases transport emissions as a result.
Both the EA and CIEL reports noted that the reusability of material is key to reducing its environmental impact, while longer lifespans can often mitigate the immediate, high energy consumption or carbon emissions associated with production. Sourcing from producers and suppliers that are procuring renewable electricity is also preferable.
There are other environmental impacts to consider beyond carbon impacts. Paper materials can be linked to deforestation unless sustainably sourced and biodegradable oxo-degradable and oxo-biodegradable may all have to be treated industrially in order to degrade naturally and can contaminate waste streams.
If your business is still exploring best-practice applications for single-use plastic phase-outs, edie's new report, inspired by edie's Mission Possible Plastics Hub and sponsored by Nestle, provides a much-needed progress update on the UK's transition away from single-use plastics; and acts as a definitive guide for businesses looking to eliminate single-use plastics waste through reduction, redesign and phase-out of the material – in a way that doesn't lead to any unintended consequences.
The report includes a mix of high-level thought-leadership contributions and best-practice case studies, providing readers with a unique insight into how they can become the changemakers on the road to zero single-use plastics. Download the report here.
Matt Mace
© Faversham House Ltd 2023 edie news articles may be copied or forwarded for individual use only. No other reproduction or distribution is permitted without prior written consent.