Sky debuts plastic-free café as part of Ocean Rescue campaign
Media giant Sky has today (4 November) opened a plastic-free café at its headquarters in Brentford, as it strives to remove all single-use plastics from its products and operations by 2020.
---
The café, which is open for staff and visitors alike, has been installed without the use of virgin plastics and vinyl printing. Instead, elements are made from natural materials and recycled ocean plastics.
Recycled plastic elements inside the café include table collars made using recycled fishing nets and five plastic pillars – each of which is printed with information about one of the UK's most commonly used single-use plastic items – as well as a 3D-printed model of a coral reef.
In order to turn this information into action, the café also plays host to a pledge area, where staff and visitors can make environmental commitments on behalf of themselves or the organisations they represent.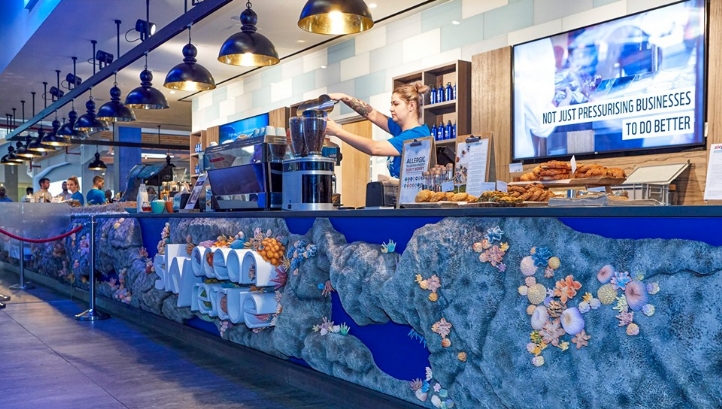 Away from infrastructure design, the café will be serving food and drinks in formats free from single-use plastics. Crockery will be available for those sitting in, while takeaway disposables have been replaced with glass or paper-based alternatives. Sky claims that one of the hardest swaps has been from single-use milk bottles to a "bag in a box" concept, broadly used across Canada.
Sky's head of inspirational business Fiona Ball said the café will serve to make the company's mission to remove all single-use plastics from its operations by 2020 more visible to the 250,000 people who visit – and to inspire further action.
"As people look to businesses to reduce single-use plastics, our Sky Ocean Rescue café is another way we're doing that, showing others how they can make a difference," Ball said.
Since making its first plastics reduction commitment in 2017, Sky has removed more than 300 tonnes of single-use plastics from its products and operations.
The firm's internal commitment has been bolstered with an extensive communications and outreach campaign, including a dedicated website, a 45-minute TV documentary, a social media campaign backed by millions of people and a partnership with the Premier League. Under the latter of these aspects, several big-name clubs have pledged to phase-out certain single-use items from their operations and on matchdays. This move has been widely welcomed by fans, with 84% now saying they'd like to see their club to remove single-use plastics "where possible".
Sarah George
© Faversham House Ltd 2023 edie news articles may be copied or forwarded for individual use only. No other reproduction or distribution is permitted without prior written consent.